Henry Grover's Liking for a Bottle of Fowler's in 1839
"O'er a bottle of John Fowler's Ale"

Many Fowler's drinkers will have heard word that their microbrewery, re-established in Prestonpans in 2003 since when it has won fame if not big fortune, has plans to offer its excellent Prestonpans ales in bottles later this year.

This wont of course for one moment affect the continued availablity of cask ales especially our Prestonpans 80/- and IPA, or our Gothenburg Porter or even the occasional Bonnie Prince Charlie's Wee Heavy. But it will expand the distribution availability of Prestonpans ales and that can only be good!

A few Fowler's drinkers regard a bottle of such fine ale as undesireable, but in his defence the Head Brewer offers the poetic thoughts of Henry Grover in 1839, just two years after Queen Victoria ascended to her throne and couple of years before the order from Banff for a cask was received by Penny Black post!

We can readily see how Grover is "blithe as a lark, cheerful, merry & wise" as a result. Amen.

click on poem to enlarge and enjoy!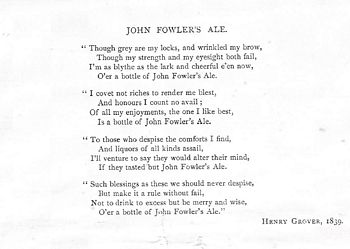 Published Date: February 7th 2008