Prince Charles Edward Learns He's Worth €3.25m to King George!
Always Nice to Know How Much You Are Valued!

This W Simson RSA painting [seen here through its subsequent engraving by J Horsburgh] shows The Prince reading the Proclamation from Hanoverian King George II offering £30,000 for his capture or head. [In today's Scottish money that's some £2.5m or in Hanover some €3.25m.] At the time it was laughed about, and a tit-for-tat Proclamation by The Prince was made for capture of the The Elector of Hanover [as he always described King George II]. Initially Charles suggested the Hanoverian Usurper was not worth more than £30 but his Councillors recommended matching the £30,000. Observant viewers here will see that the Prince has thrown down his left gauntlet onto the pavement at Holyrood.

click on the engraving to enlarge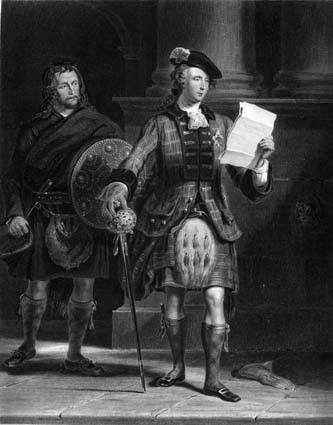 Later, after Culloden, it became a more serious matter yet no Scotsman, Jacobite supporter or quite-the-Whig Unionist, ever saw fit to claim it most especially those who were well aware of his whereabouts.

Cumberland finally united all Scotland by his despicable yet explicable behaviour at and after Culloden. United not for or against the Prince, but eternally for Scotland!


Published Date: March 3rd 2008