Walkers Walk The Murals Trail ... Opening the 2008 Season in The Pans
Pans Murals Declared Good for your Health as Well as your Spirits!

With all that talk about the need for exercise in the Western world [and not least in Scotland] it is pehaps surprising that the health benefits of the Murals Trail here in The Pans have been overlooked. But all that has now changed as 32 Walkers 'Walked The Trail' from Cockenzie Power Station to Prestongrange Bowling Club / Sam Burns Yard.

Murals have long been acknowledged worldwide as very good indeed for community esprit de corps; now their bodily benefits are lauded. And after their topnotch tour led by Andrew Crummy, the Festival's Arts Convenor, all Walkers found the Festival hub at the Goth the ideal spot at which to take a nourishing High Tea at the end of the day's exercise.

The picture below shows just how much healthy goodness such a Walk affords.

click to enlarge the photograph and press cutting below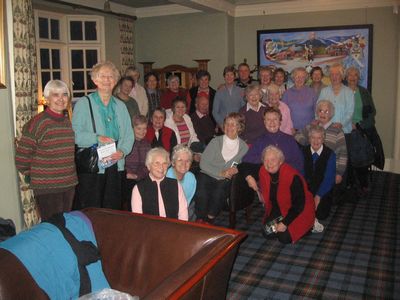 On an even more serious note ....

.... 2008 sees the formal launch of tours actively promoted in Edinburgh for visitors to come along to The Pans. Already over 50 tour groups have made their ways to the Pans on an ad hoc basis since the murals programme reached critical mass but, from 2008 in association with the Battle of Prestonpans 1745 Trust, a small team of local volunteers is looking to 'formalise' such tours.

Be absolutely assured that such incoming tours will in no manner 'best' the service already regularly given to 'local' community groups. And if you are such a local group and wish to settle a visit in your group's forthcoming annual events and activities diary, please get in touch with The Goth - Andrew Crummy/ Anne Taylor/ Gillian Hart on 01875 819922.





Did You Know?

Prestonpans is the UK's leading historical murals town with 40+ murals now in place as well as our famous totem pole and we have sculptures due in 2008. And The Pans best mate in Scotland is at Invergordon where a mural programme began three years ago.



Published Date: January 7th 2008