Alan Breck's Factition in Kidnapped , Catriona and the Corstorphine Memorial
Alan Breck's Factitous Tales are easily Accessed

A number of requests have been received for ready [easy?] access to the two great Stevenson tales which feature Alan Breck - Kidnapped and Catriona.

Balfour and Breck parted at the end of Kidnapped at Rest-and-be-Thankful close by Corstorphine, and a fine monument stands there today as pictured below - which is surely set to become a regular venue for the Alan Breck Prestonpans Volunteers over the coming years!

click on images to enlarge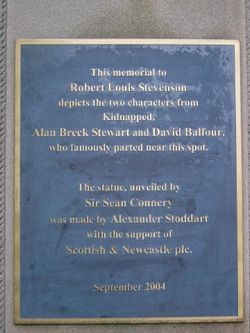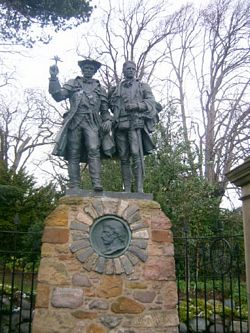 Both books are available on the internet for downloading chapter by chapter. Simply click below on the bold titles.

The full text of KIDNAPPED

The full text of CATRIONA







Catriona is of considerable additional local interest because the Lord Advocate at the time of James Stewart's trial and execution for the Appin Murder was the Baron of Prestoungrange, William Grant, Lord Prestoungrange.

On Scottish Barons' Day in Prestonpans, November 28th 2006, the relevant chapters of Catriona were produced as a short play at Prestongrange House by the Arts Festival with the assistance of Ian Nimo, Chairman of the RLS Society in Edinburgh - [details half way through this link].

The play [script linked here, The Greening of David Balfour,] was later sponsored for the Prestoungrange resident Arts Festival theatre group to take to the Edinburgh Fringe in 2007.

In Search of British Linen ...

Chapter 1 of Catriona sees Balfour off to the British Linen Company [an anachronism as it transpires which name now resides unused with The Bank of Scotland since 1990] to collect much of his inheritance in the following words:

"Chapter I: A Beggar on Horseback.

The 25th day of August, 1751, about two in the afternoon, I, David Balfour, came forth of the British Linen Company, a porter attending me with a bag of money, and some of the chief of these merchants bowing me from their doors. Two days before, and even so late as yestermorning, I was like a beggar-man by the wayside, clad in rags, brought down to my last shillings, my companion a condemned traitor, a price set on my own head for a crime with the news of which the country rang. To-day I was served heir to my position in life, a landed laird, a bank porter by me carrying my gold, recommendations in my pocket, and (in the words of the saying) the ball directly at my foot."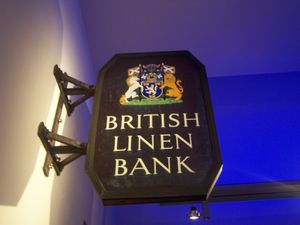 Published Date: January 6th 2008