Blaze Barons, Blaze ... or Forsake Your Territories!
Prestoungrange & Dolphinstoun Have Set The Pace

The third Annual Banquet to celebrate the Baronage of Scotland, inaugurated in 2004 in Prestonpans by Prestoungrange and Dolphinstoun, took place on November 28th 2007 in the Jacobite Room at Edinburgh Castle.

More than 40 Barons and their Ladies attended with another 50 guests. It was the largest gathering since the Act of Union with the Sassenachs brought them all together three hundred years ago just 150 yards down the Royal Mile in the Auld Parliament. 2008 will see them banqueting on the Royal Yacht Britannia on even date.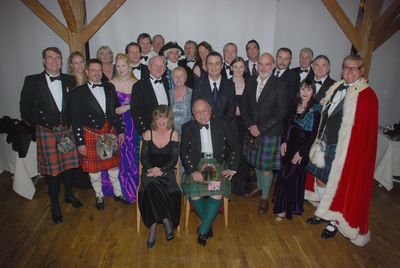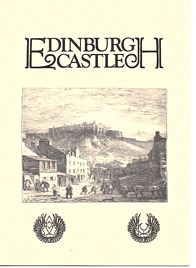 November 28th 2004 was the precise date when feudal land tenure in Scotland finally ended and Barons by statute lost all their rights save their territorial titles and the Dignity per se as a Noble of Scotland with its ancient heraldic entitlements. At the final session of any Scottish Baronial Courts, held at The Prestoungrange Gothenburg in July and October 2004, the Courts declared November 28th to be known as 'Barons' Day' henceforth and required that it should be properly celebrated with all other members of the Baronage invited.

click on all images to enlarge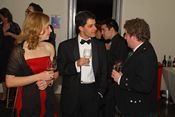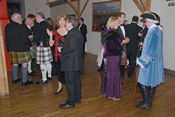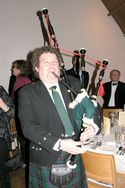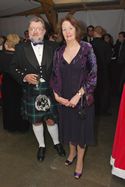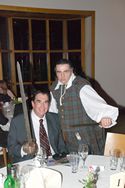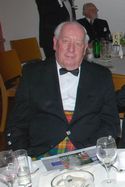 Poet Laureate Reminds Barons that they are very much On Their Dignities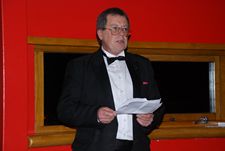 Lyon Clerk Elizabeth Roades is on public record as reminding all Scotland's Barons that if they wish to gain and sustain respect in their own communities and Scottish society at large, they must without fail honour their territorial origins. It was from Scotland's lands that their titles are derived. The Poet Laureate, John Lindsay, followed this sentiment through with his customary wise advices:

DIGNIFIED BARONS A-PLENTY

From Inneryne to Plenderleith
There's Barons Scots a-plenty
From Gigha west to Cluny east
Here number Barons twenty

Come all ye honoured Barons now
Of Scotia's rain-swept land
We'll take a trip down History Lane
Then view the state-in-hand!

The Declaration of Arbroath
Was signed by thirty-eight
When Barons were a source of strength
Which moved this nation's fate

Our Barons stinted not their lives
To fight usurpers ill
For dozens died at Halidon
And more on Flodden Hill

You may have lost your feudal rights
But titles you've retained.
Above all, use those Dignities
For which you once were famed.

A Baron-free millennium
Was what the Parliament planned
Yet here you are as Barons still -
On Dignities you stand.

Our world has need of folk like you,
Barons bold and Barons true!
Look then to the future
For there's much that you could do!

Your feudal days have long-since gone -
Kinship and loyalty grow less strong
But Baron's still can show the way
In this materialistic day

By taking interest in the place
From whence their ancient titles came
Like Dolphinstoun and Prestoungrange
Who've worked great wonders bright and strange!

So now we leave you with this thought -
There are some things that can't be bought
This present time -
Blaze Barons, blaze in worthy cause
And make your titles shine!
Prove to the world there's life there yet
To justify your line!

From Ardgowan east to Ormiston,
North to Braemar then Pitcruivie,
Finlanrig, Blackhall,Holydean
Auchternunzie thence to Comrie …
Think on Bathgate, Lag, Kilmarnock too,
Rachane Delvine and Biggar,
Kilpunt Dunira Duddingston,
Cushnie-Lumsden and Corstorphine-
Not forgetting Prestoungrange and Dolphinstoun!

Let Our Dear Lord in His Wisdom
Make them glitter in their fiefdom -
Make a difference in this Godless age -
The new proactive Baronage!

Barons are deeply committed to honouring their Titles and Dignity and gladly reaffirmed it

The great majority of Barons in attendance in 2007 are recorded in the poetry above. Many more sent apologies. But all cried Aye aloud as by tradition the Baron most recently infeft in Scotland, Duddingston, took his ancient Oath of Allegiance to HM The Queen as his feudal Sovereign Lord before his peers, and pledged to honour and support as best he might those living today on the lands from which his title derives.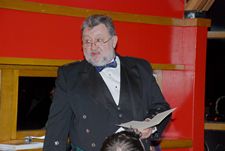 The Barons of course brought family and friends as their guests. Amongst local guests were East Lothian singers The Laverocks, Dr Lindsay Davidson - Piper and Master of Musick in the Courts, Arran Johnston - HRH Prince Charles Edward, Adam Watters - Agitant The Alan Breck Prestonpans Volunteers and Trustees from the Battle of Prestonpans Heritage Trust. The last man in Scotland to be punished in the stocks in 2004 in Prestonpans - Dr Andrew Crummy - was also present as was the Editor in Chief of Burke's Peerage Hugh Peskett. The Laverocks particularly enjoyed offering the Baronage the love song O Gin I Were a Baron's Heir

click on the images below from Garry Menzies to enlarge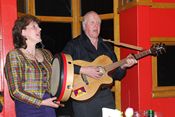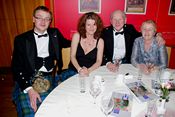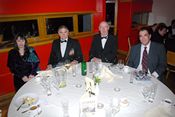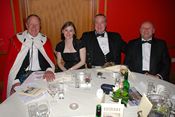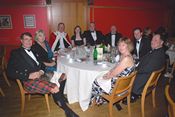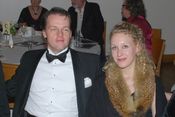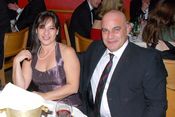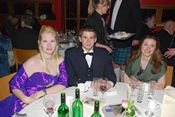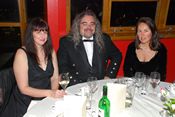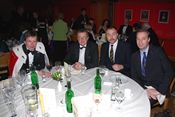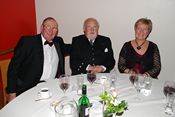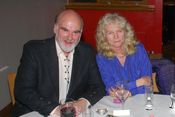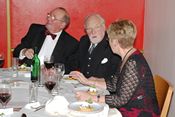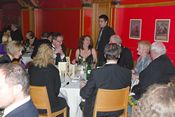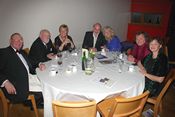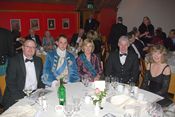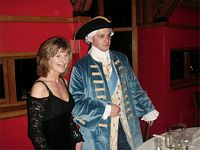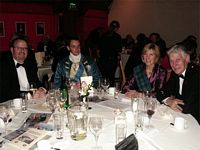 ___________________________________________________________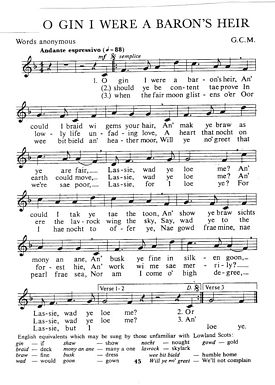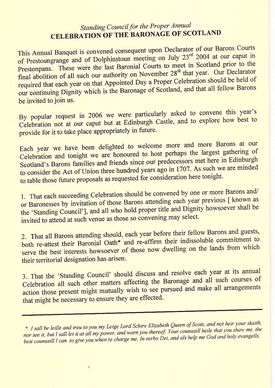 ___________________________________________________________

Apologies were received from the Earls and Barons of Arran, Ballencrief, Ballindalloch, Balquhain, Bognie, Bombie, Braemar & Breadalbane, Craighall, Cromar, Delgaty, Duncrub, Easter Gordon, Elie & St Monans, Fairholm & Kirkton, Fulwood & Direlton, Gala, Gleneig, Glenfalloch, Grandhome, Holydean, Keith Marischal, Kilmaurs, Lathallan, Lauriston, Lochnaw, McDuff, Melgand, Mordington, Octhtercoull & Dinet, Urquart and Wormiston.



Published Date: December 8th 2007