..Rebellious Scots to crush ...
Lord Goldsmith Thinks He Sees Anxious Scots

A hapless Lord Goldsmith is responsible currently for encouraging greater Britishness and has questioned some verses in the National Anthem which focus upon the Scots - as a result of their stunning Victory in Prestonpans in September 1745.

One must assume the powers-that-seek-to-be see the issue as a logical extension of their concerns about inter-racial abuse and hatred which is to be eschwed, whilst at the same time superimposing upon such honoured divers ethnicity an overaching construct of Britishness. If successful it might [a] save the Union and/ or [b] legitimise Scottish MPs as Prime Minister or Chancellor ordering exclusively English affairs.

Surely it is a Badge of Pride here in Scotland?

No other peoples in the United Kingdom seem to merit such a focus in the National Anthem. Not even the Irish. And the words were honestly expressed in l745 if you were not a Jacobite supporter. And what is even more to the point the wish was fulfilled. The Scots who followed HRH Prince Charles Edward were crushed - not however by Field Marshall Wade. His final moment came when he presided over the Court of Inquiry into why General Sir John Cope so calamitously lost the Battle of Prestonpans on September 21st 1745 - and exonerated him. Sound familiar? Blamed the dragoons and the foot soldiers.

The Verse That Might Offend ...

As the press cuttings from The Scotsman and The Sun indicate, the UK's National Anthem simply arrived in the best British tradition. Additional topical verses have been added as circumstancs require, but the first couple of verses are constants.

Scotland's magic moment occasioned by the Victory in Prestonpans sings as follows:

Lord, grant that Marshall Wade,
May by Thy mighty aid
Victory bring.
May he seditions hush and like a torrent rush
Rebellious Scots to crush,
God Save the King.

click on cuttings to enlarge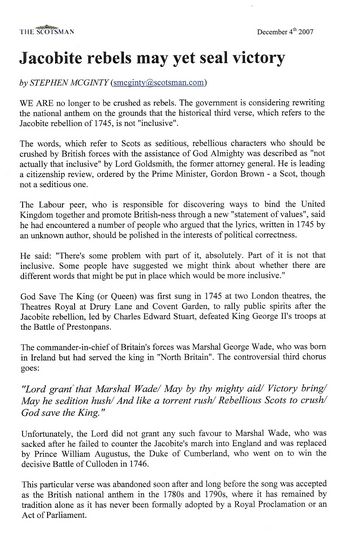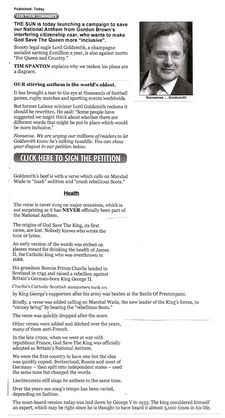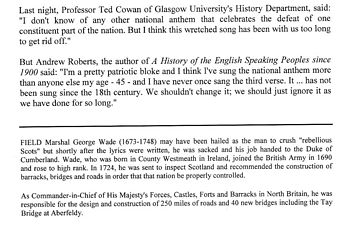 But there is a Verse Lord Goldsmith might like to suggest gets sung again today .......

O Lord, our God, arise,
Scatter his enemies
And make them fall.
Confound their politics
Frustrate their knavish tricks,
On him our hopes we fix
God Save the King.

... if His Lordship wants to change something why not tackle Land of Hope and Glory?

... it's a string of offending sentiments. How about a new final verse at the Proms each year - an Apology to all who live today in the formerly benighted British Empire in, say, Burma or Rhodesia or ....

________________________________________________________

from The WebMaster: Nobody's 'official' view is expressed here.



Published Date: December 5th 2007