Derby Welcomes The Prince but the Highland Chiefs Still Want to Return to Scotland
Charles Edward Stuart Society Proudly Presents ... for its 14th Year ...

Derby's annual re-enactments at Swarkestone Bridge, to the south of the town across the Trent, are now very well established in the local and national Jacobite calendars.

And it has an especial significance for the Battle Trust in Prestonpans since it was to Derby's Exeter Room there in 2007 that Trustees went to reverse the Prince's War Council decision of long ago. The campaign should go forward, not retreat. It is also the venue where the opportunity first arose [and continues] to recruit for the following September's re-enactments in Prestonpans.

Swarkestone's Significance for the Prince ...

This famous bridge across the Trent was taken by advanced Jacobite forces at the beginning of December 1745 so that their speedy rate of advance to London could be sustained. As fate would have it the Prince and his forces never crossed the Trent since they resolved to return home for the winter of 1745/ 1746.

click on all images to enlarge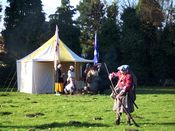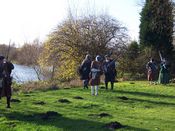 However, the re-enactment has been factitiously crafted to see Hanoverian redcoats coming from the south to challenge the advanced Highlanders - who initially lose control to a superior force.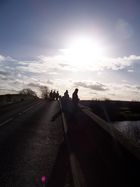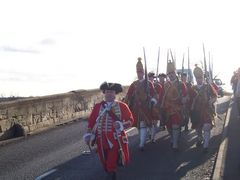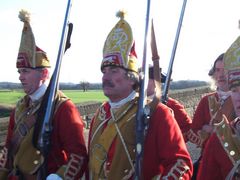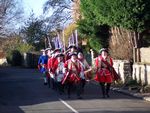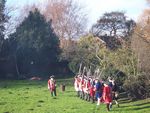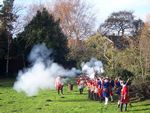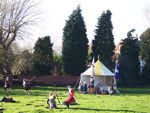 The Prince rallies superior numbers and pipes and battle resumes to take the bridge back from the Hanoverian government troops who eventually surrender.












The Prince, portrayed by the familiar person of Derby born Arran Johnston, reviews and congratulates the Highlanders -accompanied by Lord Elcho.







Once again, the Chairman of South Derbyshire Council invited the Battle of Prestonpans Heritage Trust to lay a wreath at the memorial cairn by the Trent at the conclusion of hostilities, which Baron Prestoungrange was pleased to do. The Chairman, Michael Bale, a former Lord Mayor of Sheffield himself a redcoat re-enactor, family and friends adjourn to quench their thirst.









Published Date: December 11th 2007