People and Places We Love .. Sam Burns and That Yard!
Andrew Crummy's Mural at The Yard is now complete ..

Most passers by and all the customers these past 8 weeks at Sam Burns' Yard have known that Andrew Crummy was at work painting the family's history on the new gates there.

click on the pictures to enlarge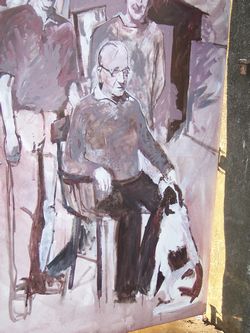 They are a legendary family which has brought fame to our town in a most unusual way and of course become avid collectors on the way of Prestonpans Pottery - lending many pots for the recent exhibition. But the long ago origins are also recalled - Baxter's Quarry indeed, Firewood Merchants and Needles to Anchors. Long may the delightful and entrepreneurial Burns' family flourish and keep bringing visitors to our town.

Andrew Crummy's artwork, the 36th mural from the Arts Festival, is shown below. But take a look carefully next time you pass by.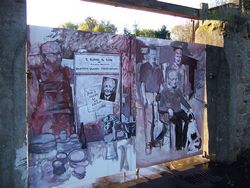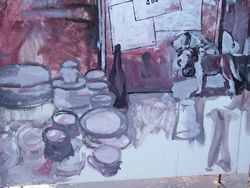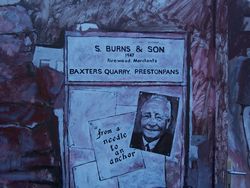 Published Date: November 3rd 2007