Battle Orders July 22nd & September 18th/20th 2008
DIARY DATES FOR 2008 FOR THE TRUST

Supporters are asked to make diary notes as follows for 2008 - and the Trustees of course hope as many as possible will attend.

Tuesday July 22nd 2008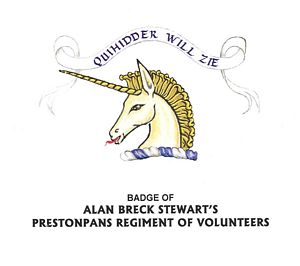 Alan Breck's Prestonpans Volunteers Regimental Dinner with Colonel-in-Chief Martin Margulies - author of Battle of Prestonpans.

Thursday & Friday September 18th & 19th 2008

Prestonpans Symposium and East Lothian Battles' Gathering [including Dunbar & Pinkie]

Friday September 19th 2008

Edinburgh Proclamation of King James VIII
Prince Charles Edward at Duddingston

Saturday September 20th 2008

Battle Re-enactment Day - beginning with the Riggonhead Defile before dawn followed by other significant cameos and the occupation of The Pans by the Highlanders. Prestonpans Town Hall Ceilidh.


Published Date: January 2nd 2008