The Devil's Craft Completes the Witch Plays Trilogy by Roy Pugh
The Permanent Cyle of Three Witch Plays for Prestonpans

Three years ago when the Barons' Courts Pardonned all 81 individuals convicted of witchcraft in Prestonpans the Arts Festival pledged to create with Roy Pugh a cycle of three plays that could be repeated across the years as a permanent tribute and reminder. The last of these, beautifully written by Roy Pugh and presented for the second year running by the resident Meanwhilers at the Gothenburg, drew three audiences at Hallowe'en on October 30th and 31st. And the Goth offered a Theatre Supper package too which many of the audiences enjoyed.

Roy Pugh attended and was enthralled at seeing his words come to life so spectacularly.

The programme showing the cast and pictures appear below.

click on pictures to enlarge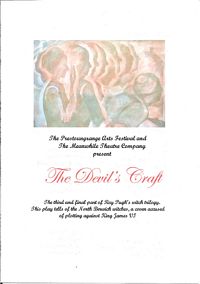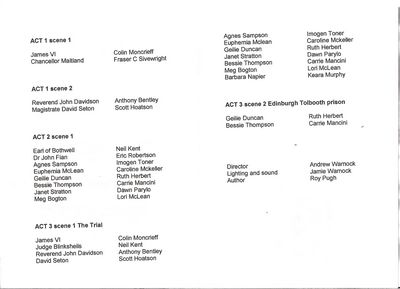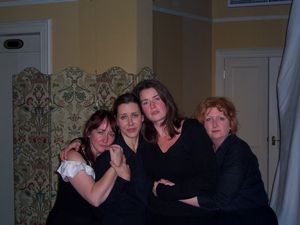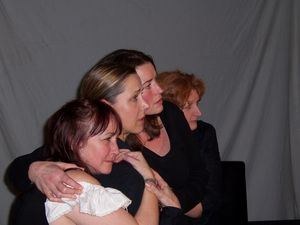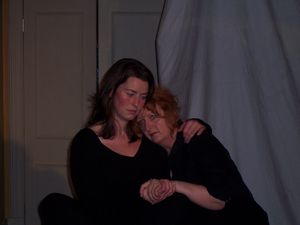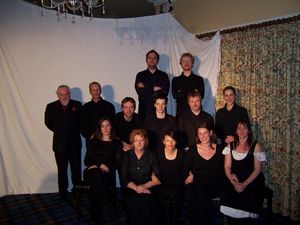 Mary Martin again attended as our Guest of Honour

As is now customary, the matinee performancer on October 31st saw Mary Martin, grand daghter of the last woman, Helen Duncan, to be convicted and bizarrely goaled in Britain in 1944 under the 18th century Witchcraft Act, join the commemorative ceremony. She and others present laid herbs at the Commemoration Panel carrying all 81 names and The Poet Laureate John Lindsay offered new words of remembrance. The new portrait of Helen Duncan seen here was created by Andrew Crummy as a gift to Mary Martin on the occasion.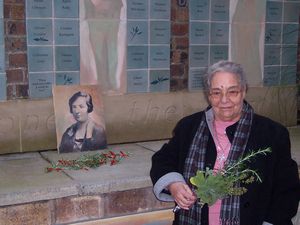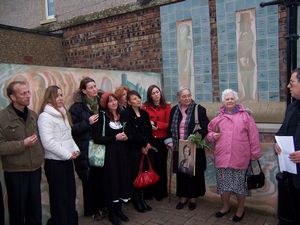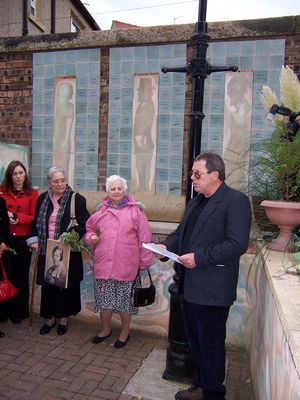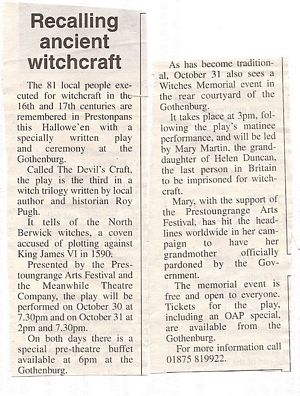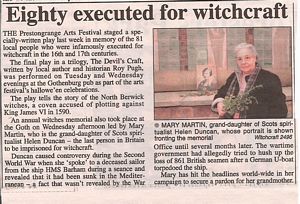 Mary Martin was also able to report to us all that since the commemoration last year the Arts Festival's Petition and a Petition on the Downing Street Website have advanced the case for justice to be finally done in respect of her grandmother.


John Lindsay's Poetic Words on October 31st

Witches Atonement ...

Death invites us all
but surely not THAT way -
damned to a fate
of terror, torture and dismay -
The ignorant destroyed
by those more stupid still
and led like flocks of hobbled sheep
to die on Castle Hill, where
hurt, damned, shamed as heretics
they were torched
by star-crossed laws of yesteryear.

Events from such an archane past
we scarcely can conceive ..
while from a time more distant still
we hear the echo from another public hill
where Jesus cried:
"Forgive them Lord - they know not what they do!"
Make no mistake!
Atonement here is made by me and you
Who wish a peace in Heaven
For those harmless martyred few.

The full Cycle of Roy Pugh's Plays to be Published shortly

Now that the third play in the cycle is completed, Prestoungrange University Press will shortly be publishing all three of Roy Pugh's Witch plays, along with the other two Arts Festival commissioned plays being Catriona by Iain Nimo and the Battle of Pots and Pans by Andrew Dallmeyer; together with the Poet Laureate's verses both above and from previous years.



Published Date: November 3rd 2007