The Goth gets hip with FUNKSTAR
Funkstar, a local Prestonpans band made their Goth debut on Sunday 8th August drawing a crowd of 120 people.

Funkstar consist of 6 members – Colin Findlay on Bass Guitar, Aly Wallace on Lead Guitar, George Logan Drums, sisters Sheryl and Yvette Currie along with Gary Fraser on vocals. They play a mixture of popular cover tunes to the beats of contemporary funk.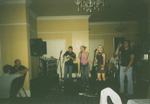 The band played upstairs in our Thomas Nelson Suite. The band set up in the far corner allowing for a good sized dance floor to be laid out in the middle of the room, for old and young alike to get down and boogie! And boogie you did –photographs don't lie!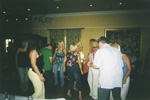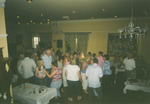 Funkstar played 2 sets with an interval of 30 minutes, giving an opportunity to another up and coming local artist – Stuart Wilson, to take to the stage. Stuart got the crowd swaying to ballads and singing along to the good old tunes (giving away a few peoples age, one might add!)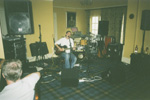 The audience wase extremely responsive so much so that Gary encouraged 2 members of the crowd to give us a show of their talent. Tony, very popular with the locals, gave us a punk style rendition of a well known classic that no-one seems to remember and Neil Black gave an extremely soulful performance on the harmonica of "Summertime". Superb!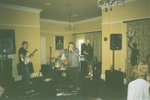 Click on all images to enlarge

By 8pm the band had completed their superb repertoire, retiring for a well deserved refreshment in The Lord Mayor's Bar, although its certain the crowd could have listened all night long.

Not to worry though, Funkstar return to the Goth for another fantastic afternoon of entertainment on Sunday 12th September. Be sure to be here.

Published Date: August 8th 2004