In Memoriam: Colonel James Gardiner
We regret to confirm that Colonel James Gardiner of Bankton House died at Tranent Manse, September 22nd, of wounds sustained the previous day at Prestonpans

Indeed he did - in 1745. And central to the 2007 re-enactment cameos was the depiction of the events leading up to and following his mortal wounding under the thorntree. In presenting this re-enactment the Trustees owe an enormous debt of gratitude to the Bankton House Residents' Association, chaired by Richard MacKenzie, who did everything imaginable to make a success of the occasion. Richard MacKenzie even went so far as to acquire the right cart [pictured in the first image] on ebay way south of the border for Colonel Gardiner to leave the field of battle. The paddock was cut and turned into an encampment for the 77th Montgomeries from the Czech Republic who starred throughout the weekend and the necessary thorntree was there to hand [to the right of the first image]. Preston Tower is in clear view on the horizon in the second.

be sure to click on all images throughout to enlarge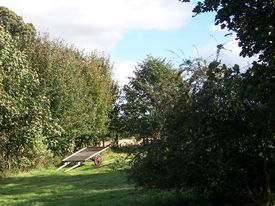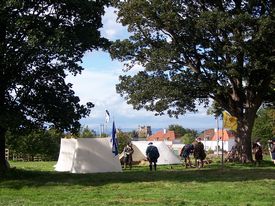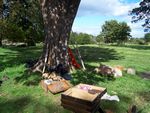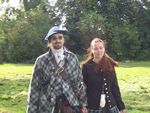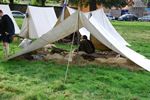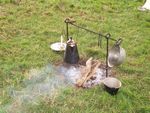 Dramatis Personae To Be Thanked No Less

Responsibility as 're-enactment host' was gladly accorded by the Trustees to The Glenbuckets co-ordinated by their Agitant Claudia. The major actor as Colonel was the Rev Robert Simpson of Prestongrange Kirk, and his manservant was Roger Knox, Depute Provost of East Lothian and Musselborough SNP Councillor. Narration throughout was by fellow SNP Councillor from Port Seton Trustee Peter MacKenzie - dressed in magisterial attire reminding us of his earlier professional career in the town. HRH Prince Charles Edward, who was to insist that the Colonel and his manservant be allowed to leave the field of battle in peace, was portrayed by Arran Johnson.

A goodly crowd attended the re-enactment as pictured below - and the weather was kindness itself.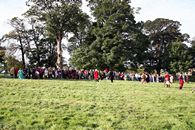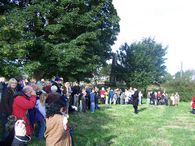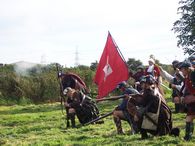 The challenge to enlist local redcoats in support of the Hanoverian King George II was undertaken by Prestonpans Highlander Adam Watters [who stars at the Trust's website] assisted by Richard MacKenzie, Trustee Gareth Bryn-Jones and the Baron of Dolphinstoun all of whom fell in the re-enactment battle.

Authentic Battle Sequence Re-enacted

The Trustees have from the outset been determined that authenticity in re-enactment shall always be aspired to. And on this day only two additional fusillades of muskets from both sides to demonstate their weaponry to the massed onlookers deviated from the historical facts.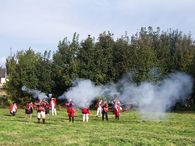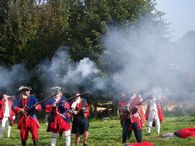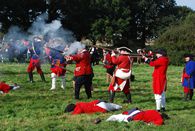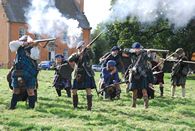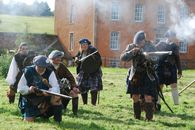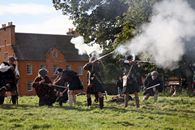 Records tell us that as the Highlanders charged only one fusillade was possible before they fell upon the Hanoverian King's army which fled leaving virtually no resistance. Gardiner, already wounded, saw a small foot contingent of redcoats striving to fight on and rallied them exclaiming: Fire on my lads, and fear nothing". No sooner had he uttered these words than he was further wounded by a scythe and as he fell from his grey horse beneath a thorntree received a stroke from a Highlander's Lochabar axe to his head.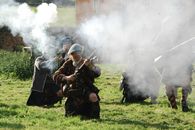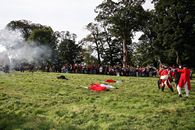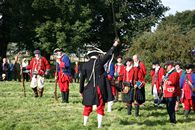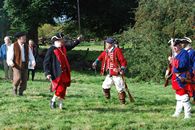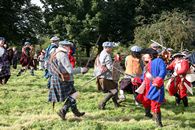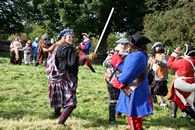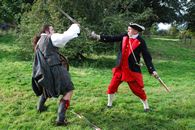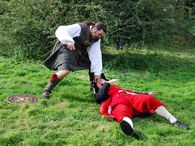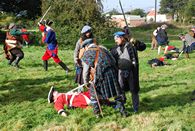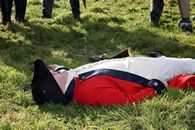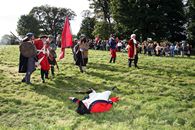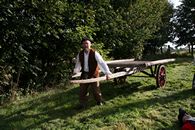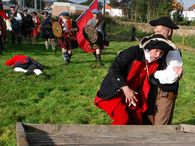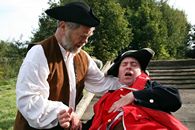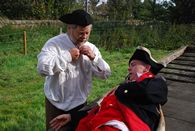 At this juncture The Prince intervenes to ensure that the Colonel can be transported from the battlefield to Tranent by his manservant dressed as a miller on a cart. Once in Tranent he goes directly to The Manse. The Prince takes prize possession of Gardiner's grey horse and is to ride it all the way to Derby.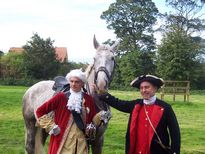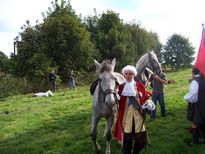 Once in Tranent Gardiner is carried directly to The Manse and the final chapter unfolds .....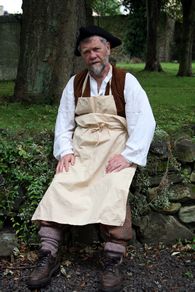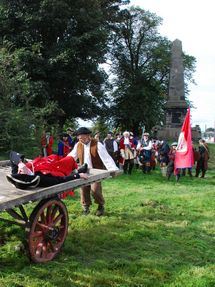 ...as the Colonel, attended by his manservant attired still as a miller, dies in the arms of the visiting Minister's daughter, Beatrix Jenkinson [aka Louise Hogg, daughter of today's Minister who slept as a child in this very room].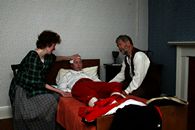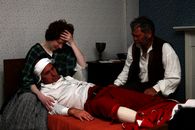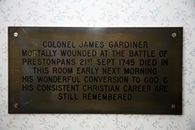 Published Date: October 4th 2007