Daily Telegraph readers get £10 Offer at The Goth fromTuesdays to Thursdays
The Prestoungrange Gothenburg Joins Daily Telegraph Bordeaux Wines Promotion this Autumn

If you read the Daily Telegraph you may already have noticed [but you may not of course] that The Goth as our local gastropub is one of 600 such pubs and restaurants across Gordon Brown's 'Britain' which are in the promotional campaign Wine and Dine with Bordeaux for only £10.





The Offer is that if you collect 1 Form and 4 Tokens you can present them at the Goth and enjoy a Special Menu [one is shown below but it changes] at £10 which includes a glass of Bordeaux wine - white or red as you may wish. N.B. ONCE YOU HAVE FOUR COUPONS YOU CAN BRING THREE OTHER GUESTS ALONG FOR THE SAME OFFER. The Offer is available Tuesdays / Thursdays lunch and evenings. Be sure to call to reserve a table [01875 819922] and state that you will be lunching/ dining under the terms of the Daily Telegraph Bordeaux Offer.

The Form and Tokens appear only until October 7th in the Daily & Sunday Telegraph but you can hang on to them for redemption until January 19th latest 2008 [excluding December 22nd/ January 1st for obvious reasons].

Come as often as you wish as long as you have a Form and 4 Tokens in hand and phone to book on 01875 819922!

click on all images to enlarge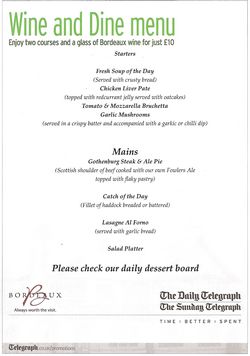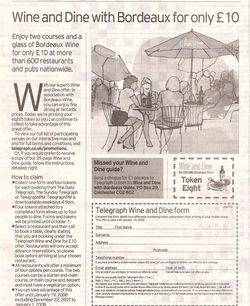 The Goth's team are looking forward to welcoming the paper's collecting readers and have also created their own 'Come Back Again' Offer as shown below.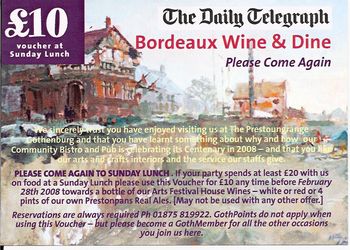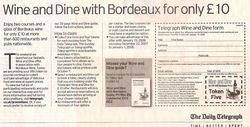 _________________________________________________________
The Gothenburg Management Team



Published Date: September 29th 2007