Riggonhead Defile Walked - and of course it was 4 am!
Undoubted Facts and Authentic Re-enactment

There were more than a few doubting Thomases about this particular re-enactment [including to their eternal shame amongst the Trustees themselves!] But the significance of the event being re-enacted, the absolute essence of audacity and surprise, brought above 60 re-enactors to Tranent Church at 4 am.

It was from here that they embarked on the march taken 262 years ago by 2000 Highlanders in total silence to arrive at Seton Mains before redcoat pickets spotted them at 6.15 am in the morning mist as the sun rose in the east. And now as then HRH Prince Charles Edward Stuart was amongst them.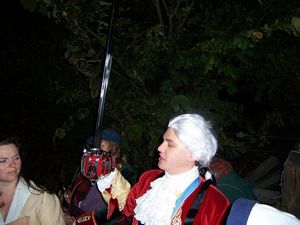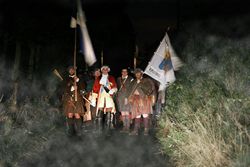 That march, three abreast led by Robert Anderson, brought the Prince's Highlanders so close, undetected, to the Hanoverian redcoat lines that when they charged the government troops had no opportunity to reload either their canons or their muskets before the Highlanders were upon them.

The pictures below capture not only the crucial elements of the re-enactment itself but also the pre and post opportunity for tucker - denied no doubt the Highlanders 262 years ago. The assemblage at Tranent Church were fortified at 4 am with Scotch eggs and vegetable soup prepared by Chef Andrew Laurie and Manager Carol Black at the Goth; and restored after what was eventually a five mile walk at 6.45 am at The Goth itself with a good Scottish Hanoverian breakfast. [These were the appetites for the battle to be fought and won at 10 am at Bankton House and for the contents of the Baggage Train to be captured at Cockenzie House by noon.]

click on all images to enlarge
















The redcoat pickets spot the advancing Highlanders through the mist, cry out and flee!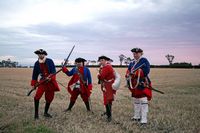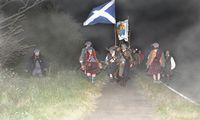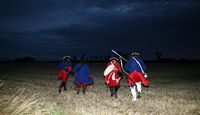 ...nor did the sunrise disappoint ... what a spectacle to remember ... and so to a hearty breakfast












___________________________________________________________
.....and the confession? 4 am British Summer Time is 3 am Greenwich Mean Time, so the Prince's army would have moved off at 5 am BST not 4 am. Maybe another year we'll all get an hour longer abed?


Published Date: September 29th 2007