Pride Petition Answered 261 Years On ...
In 1746 Robert Pride, James Pride Snr and James Pride Jnr, miners in servitude to the Baron of Prestoungrange [then William Grant - Lord Prestoungrange, the Lord Advocate, who plays a major factitious role for David Balfour in Stevenson's Catriona] petitioned that they be not sent to [Barrowstouness] Bo'ness to work for ye Duke of Hamilton's oversman John Binel since Binel was "being hard upon us and stopping us of bread. And now we humbly beg you out of clemency and goodness will keep us from going to that place, where our lives will be in so much danger..."

There is no evidence whether the petition was ever granted to Robert and the two James Prides. But 261 years later on Monday September 24th direct descendant of those petitioners led by Sandra Pryde [the 'y' replaced 'i' three generations back] took bread with today's Lady and Baron of Prestoungrange at The Prestoungrange Gothenburg.

Sandra has undertaken the genealogical research on the 8 children of James Pride Snr and his wife Helen [Selkirk] born between 1704 and 1729 establishing that they spent nearly 200 continuous years winning coal in the Lothians before moving to agricultural labouring at Seton Mains by 1891..

click on pictures to enlarge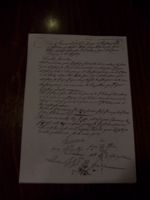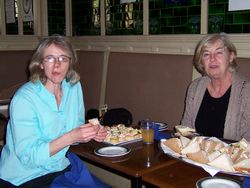 Today's Baron has promised that any direct descendants presenting themslves to the Barons Courts at the Prestoungrange Gothenburg in future years shall likewise receive bread - in whatever form although this time the option was sandwiches!

Sandra Pryde contacted the Baron of Prestoungrange after seeing details of her ancestors' petition in the recently published 1000 years History of Prestonpans saying how pleased she was that it had been included.

Dr Gordon Prestoungrange, Baron of Prestoungrange, commented: "It was marvellous to hear from Sandra Pryde and her family like this. It brings to life all the research work we are undertaking here in The Pans that underlies the Arts Festival celebrating the town's history. We have also heard from former managers of The Gothenburg from as far away as New Zealand, from former potters, Redburn dairy owners and brewery workers families; and our murals artists are always getting helpful advice and old photographs as they do their painting. It makes it so very very worthwhile."

Published Date: September 24th 2007