Artists for Barga 2008 ... £275 b&b 10 days .. Must Register interest by October 31st
Tailored Package Now Offered here in The Pans, Port Seton, Cockenzie & Longniddry

Umpteen of us have vowed we will make the visit to Barga in Tuscany's northern mountains with which 'most of EH32' twinned in September 2006 ... and now the Prestoungrange Arts Festival/ Three Harbours and Prestonpans Community Council have put together a package for 2008.

It's £275 net for 10 days. The 'net' price is available for those who either paint, write or photograph a vital aspect of their visit for an Arts Festival publication which earns a £50 Arts Festival Bursary to reduce the full cost of £325.

Once numbers are clear [and a minimum of 14 is required] the group will elect for either May or September 2008 as the prefered time.

DEADLINE FOR REGISTRATION is October 31st to secure these terms including the airline ticketing. Be in contact as soon as possible with Gillian Hart, Arts Festival Treasurer, at 01875 819922 ... or a word with Andrew Crummy as he works at Sam Burns' Yard perhaps.

The full details of the package are appended below - click to enlarge and print out.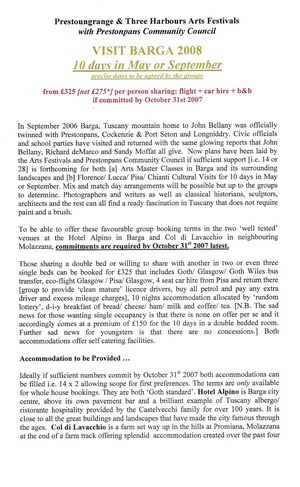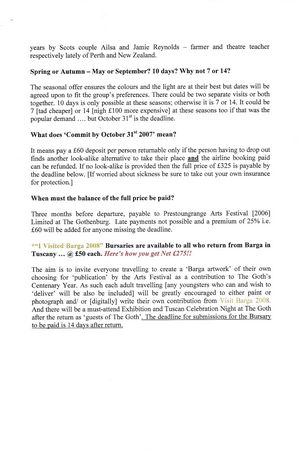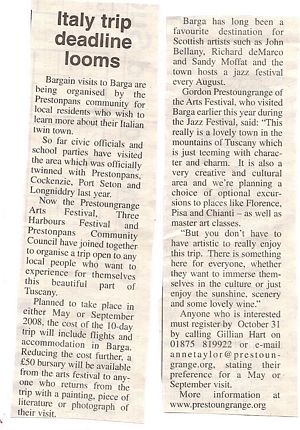 ______________________________________________________
The Arts Festivals Directorate & Committees
Published Date: October 4th 2007