Pinkie Battle of 1547 Remembered: September 10th
1, 4, 5 and 7 combine to say 1547 and 1745 as Prestonpans and Pinkie both Commemorate their Battles


Pinkie predates the Battle of Prestonpans by nearly 200 years of course, but it was a very significant and much larger scale battle. Historians remind us all it was the occasion of the Rough Wooing of Queen Mary in the vain hope she would marry the future Edward VI of England. In fact it drove Mary into the arms of the Dauphin of France but not before the Earl of Hertford had bombarded and destroyed Preston Tower and camped in Prestonpans for the night of September 9th.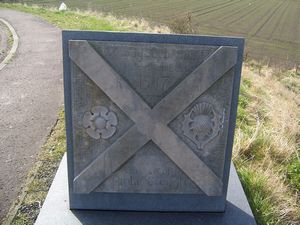 Pinkie, along with Dunbar [1650] and Prestonpans, constitute three major battle sites which the Battle of Prestonpans Heritage Trust has every intention of 'embracing' as it tells the story of the 15 minute rout inflicted by HRH Prince Charles Edward on George II's redcoats in 1745 under Cope. The reason is not to diminish in any way the significance and interpretation of Pinkie and Dunbar in their own locations, but rather to show that Prestonpans in 1745 was but one of a series of battles necessarily waged against the English on the east coast corridor route from Berwick to Edinburgh every hundred years. And of course Prestonpans was the only victory for the Scots.

The Old Musselburgh Club takes the lead each year to commemorate Pinkie as reported in the local press.

click on cuttings to enlarge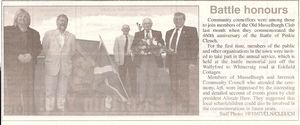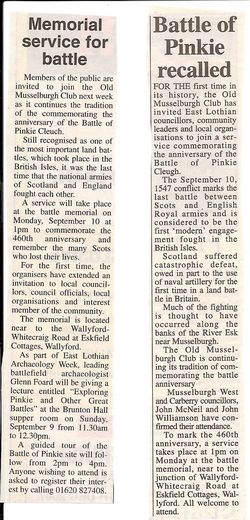 Published Date: September 10th 2007