Gothenburg's Donations top £30,000 so far this year ....
The kindest thing said this week about The Goth in Prestopnpans was ....

..much appreciated, frankly. And it came from a not unexpected quarter. You see Preston Village Cricket Club play ... well, cricket. That means they do their best to tell it as it is. It was Ian Patterson who uttered the words at the end of their 130 run victory a week since over Holy Cross when a great deal else must have been on his euphoric mind as Preston Village continue their chase for the Championship.

Ian said and The Courier reported: "We've had a very successful season so far. We'd like to thank The Prestoungrange Gothenburg for their sponsorship which has helped us develop younger players".

click on all cuttings to enlarge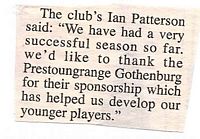 Same week those local newspapers told of the Arts Festival and Gothenburg's Golf Bursaries for Cuthill youngsters at the Royal Musselburgh Golf Club: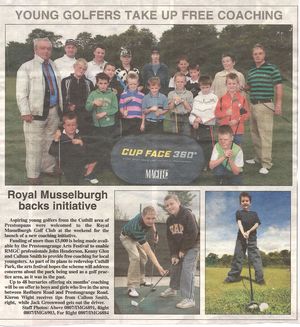 And Preston Lodge RFC has already recounted how the Gothenburg is supporting its youngsters programme over three years; and there's been three seasons of Goth soccer support approaching £10,000 for Preston Athletic and the Juniors .....

....And there's lately been £7,500 invested in the Cuthill Park application to the Lottery's Parks Fund ....

....And there's been £17,000 expended to keep a promise to the Pennypit Trust when it opened in October 2006 with no furniture or fittings to its name and a Rugby Clubhouse to run and more.

Too Big For Our Boots?

All this happens because we espouse Gothenburg Principles. But we know money can't buy you love, you have to earn it; and then keep earning it to keep it. As the above details show, however, there's a lot more to The Goth in the EH32 community than arts and music - even if 'soft music is the food of love'.

We necessarily apologised imnmediately after the fireworks went off late when the Lord Mayor of Gothenburg was here on July 23rd, and we still mean it. We don't for one minute resent Mary Purves getting her petition together. Rather we admire her determined spirit and we appreciate and respect her consoling comment: "We put up with a lot from The Goth and we get a lot out of it." That sums it up 100%. You can't make omlettes without breaking eggs and as a Gothenburg community pub we make omlettes. We have not and we will not ever be offering apologies for making omlettes. But we certainly should not have on July 23rd, and will not in future, let fireworks off after 11 pm at night. We don't think we are above the law for one moment; actually we must confess we were unaware of it.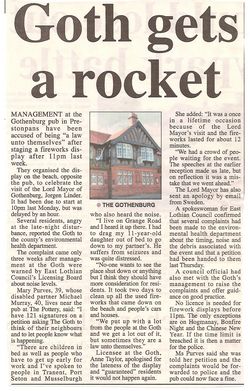 As for Councillor Willie Innes' response [to our letter the previous week] in the Letters' column of the East Lothian Courier, he knows and we know which family of individuals is the serial complainer, we both know what the National Standards are for amplified sound and we both certainly know the dangers of getting too big for our boots in any walk of life. And yes, we can all sometimes fall victim. Pride normally comes before a fall so sincere thanks for the reminder Willie. You've been around as a community leader in The Pans far longer than the team at today's Goth.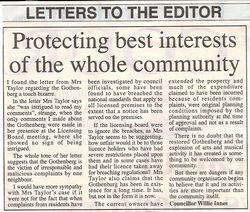 Prestonpans Community Council with PC Carson have 'probably' the last word on the matter!





________________________________________________________

from The Directors of East of Scotland Public House Limited
gladly managing The Prestoungrange Gothenburg under Gothenburg Principles



Published Date: August 11th 2007