Art Exhibition Unaffected by EU Sporran Ban
Recent EU legislation restricting the use of certain furs on sporrans will not affect Malcolm Cruickshank's new exhibition Haute Kilture, which opens at Prestongrange Museum next Friday. The kilts and sporrans in this exciting new show are made from unusual materials such as parcel paper, Astroturf, Ikea bags and fabric digitally-printed with club flyers.

The show, completed with the financial assistance of a Dewar award, should help to banish the "tartan and shortbread" image of traditional Highland dress. Instead, Malcolm says the pieces in the show are "functional, beautiful and explore the concept of clothing as art." The exhibition of alternative kilts and accessories by this talented young textile artist has already drawn large audiences in the Borders and in Shetland. Now East Lothian can see Malcolm's unusual creations close-up.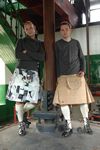 The artist, who worked at the museum in 2006, says, "Everything in the exhibition has been created to best reflect my own artistic personality, including all of the copper stands and other display items which I designed and made myself. The printed fabric photographs were the result of a photoshoot at Prestongrange, which I feel provided the perfect setting."

Prestongrange Museum is at Morrison's Haven on the B1348 between Musselburgh and Prestonpans. The exhibition is open between 11am and 4.30pm daily between 4th July and 19th August 2007. More information is at www.prestongrange.org, or call on 0131 653 2904.
Published Date: June 29th 2007