Three Harbours Festival is a Magnificent Initative ..
Winning Praise and Recognition Nationwide

The achievements of the Three Harbours Festival lead-team of Eddie Anderson, Adele Conn, Andrew Crummy, Tom Ewing, Gillian Hart and Yvonne Murphy are truly outstanding. Richard Demarco says so, John Bellany too and Sandy Moffat and Wei Luan ..... Not since the heady days 20 or 30 years ago at the Craigmillar People's Festival has anything like it been seen in the Lothians. It came out of the blue ....

click on all cuttings to enlarge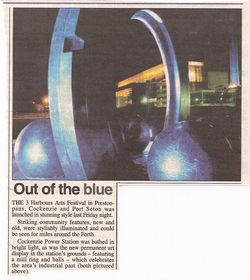 It is a triumph for community members determined to ensure that adults, yes regular adults as well as youngsters and the disadvantaged, use the creativity of the arts in myriad forms to give a massive fillip to the community. It's not just about murals or art classes: it's about music; about dancing; about theatre; about song; about boats on show; lighting up chimneys; encouraging writing and signing published books; and the rest. It's about people living their lives as they wish and revelling in it.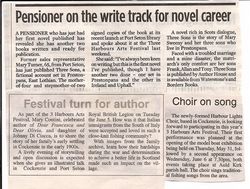 Any politicians busily and fashionably writing 'localism' or 'subsidiarity' into their manifestoes these days need look no further. It's happening big time and their role is not to seek to control or even seek or claim any credit for the phenomenon. The need is simply to fan the flames, give every encouragement imaginable for it to move on to even greater achievements. Why not think the unthinkable and offer up the Prestonpans Industrial Heritage Museum site as 'hostage to the Three Harbours Festival' allowing arts studios to be created, pottery to flourish and much more besides? Just let it go .....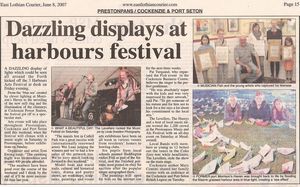 The lead-team would never claim they have done it on their own, or that they ever could micromanage any of it. They are exemplars of the art of distributed organisational networking, precisely the same model as the pioneers of the Internet adopted nearly two decades ago. They achieve what they achieve without anything anyone could call serious funding - just a few thousand pounds in the kitty raised at raffles and similar larks.

They must be, along with so many others who contributed during the first 10 days of June 2007, totally exhausted. They brought thousands of visitors with more than 10,000 footfalls at the 100+ venues across The Pans, Cockenzie and Port Seton, making sense of the PL catchment area/ the Barga twinned domain/ the Preston Seton & Gosford SuperWard. They lit up the skies with the maddest of schemes that surprised and delighted us all. Three years ago, when they first visited Pittenweem [by the way, this year it's August 4th/ 12th] for a day's outing and saw what that small community accomplished they said: We can certainly do that and more besides! Can do. Did do.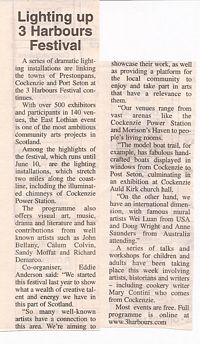 Our deepest thanks to you all from the editorial desk here @ www.prestoungrange.org


Published Date: June 19th 2007