Lord Mayor of Goteborg to Visit Prestoungrange Gothenburg Again
July 23rd 2007 is a Big Day in the Life of The Prestoungrange Gothenburg

It was July 23rd 2003 that the Lord Mayor of Goteborg in Sweden [Gothenburg as we know it here in Scotland] first came to Prestonpans to see how we were planning to get our Goth back into action. That was a grand occasion with Kate Hunter painting the Gothenburg/ John Muir Mural that stands on the steps at the foot of Redburn Road onto the baronial foreshore there. And Tom Ewing was commissioned for a painting that now hangs in the Lord Mayor's Bar, the second copy of which he presented to Jorgen Linder in Goteborg later that year.

Well curiosity has got the better of the Lord Mayor of Goteborg, and along with his wife Lisbeth and two colleagues and friends, he has resolved to come visit again to see how we have fared. Carol Black at The Goth and Sylvia Burgess, Baron Sergeand of the Barons' Courts, are in charge of numerous activities to celebrate the visit and friends from the two considerably older exemplars of Gothenburg Principles in Scotland, The Goth @ Armadale and Dean Tavern in Newtongrange, will be with us all too.

click on images and cuttings to enlarge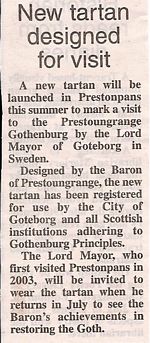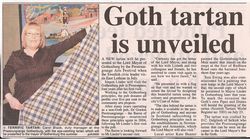 To mark the occasion in particular our own Pipes and Drums will herald the granting of a Tartan for the City of Goteborg and for all Scottish institutions adhering to Gothenburg Principles. A sneak preview of the official 'certification' of the new tartan which will be worn by The Lord Mayor's Party on July 23rd, is given below.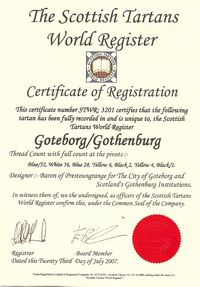 As usual, the tartan was crafted by D.C. Dalgliesh of Selkirk who provides the Prestoungrange tartan to be seen on the carpeting in the Lord Mayor's Bar [Yes, that's the Lord Mayor it gets its name from!] and in The Thomas Nelson Suite - but also as worn by our very own Pipes and Drums and the Barons' family members.

Ceremonial Occasion

The Scottish Tartans Society has a long established [at least 40 year] traditional procedure for the Grant of a Tartan and Keith Lumsden who is current Registrar of the World Register uses their form. He will be present on July 23rd to make the grant to The Lord Mayor personally as follows:

Toast to The Tartan [from Murdoch Maclean]

Here's to it!
The fighting sheen of it
The yellow and green of it
The white and blue of it
The sewing, the hue of it
The dark, the red of it
Every thread of it!

The fair have sighed for it
The brave have died for it
The foemen sought for it
Heroes fought for it.
Honour the name of it
Drink to the fame of it.

A Prayer for Our Gothenburg Tartan

O God, we are gathered here today because we share a common esteem for tartan, the symbol of so much that is good: love for our families, regard for our Clans and Districts, pride in achievement, comradeship with our fellow men.

Thou, who art the source of all that is finest in the human spirit, bless this, our new tartan for Gothenburg in Sweden and for all who subscribe to The Gothenburg Principles in Scottish institutions most particularly those staying in Prestonpans, Armadale and Newtongrange, and give each and every one of us the will to further those Principles and aims and ideals, and the strength to do so with integrity and understanding.

Enable us to communicate our enthusiasm to others across the North Sea and throughout the world so that they too may share in the rich heritage of the tartan which is today entrusted to our care and which honours The Gothenburg Principles which are more than a century old.

Published Date: May 17th 2007