Ormiston Totem Poles and Much More Lie Hidden ...
Ormiston's Poles, earlier generations of Poles and Knox' Cathedral Yew ....

Very close by Woodhall Picnic Site on the old rail track from West Saltoun and Crossgatehall just 2 miles west of Pencaitland, and 150 yards south across the A6093 from the old railway signal ... [you've found it?] ... are the county's three newest totem poles.

click on all images to enlarge them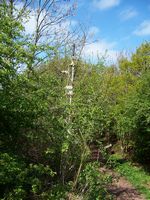 They may not be as obvious or as tall as the Prestoungrange Pole at 32' outside The Gothenburg in the Pans but they are very worthy indeed, and merit a visit from all who admire wood carving that tells the history of the community - here two tales are of coal mining and market gardening and the third is today's wildlife. Susheila Jamieson, East Lothian's then current Artist in Residence, led local volunteer carvers who have created them - and Owen McAlpine, a Community Service Officer, was responsible for their installation.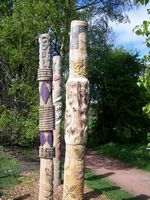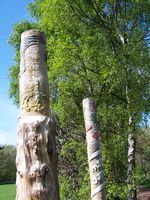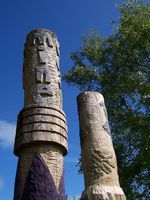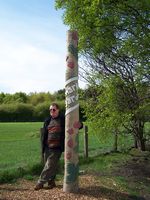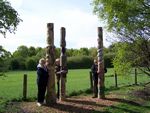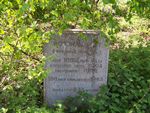 The Yew Tree where John Knox is thought to have preached is close by too ....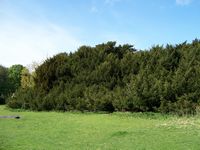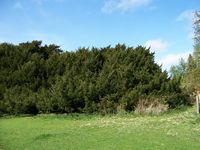 A visit under the boughs of the remarkable yew [shown above] just south of Ormiston Castle and Second Hall brings one to an indoor cathedral [if that word may be used] with windows of light and beams of timber stretched above and around. The pictures below attempt to portray what the congregation must have seen if ever their attention wandered even momentarily.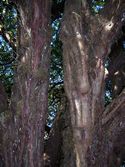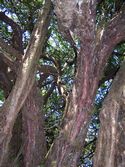 ... and finally the woods hold a silent Memorial to Polish servicemen who trained and lived in Ormiston during World War II ...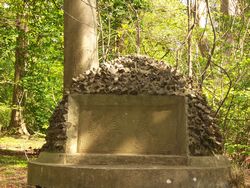 Published Date: May 4th 2007