Our 'Village' Now Famous as Far Away as Edinburgh ....
The Edinburgh Evening News Picture Gallery Honours The Pans

We were delighted to see, Thursday April 12th, that the Edinburgh Evening News had selected Kate Hunter's 'Gothenburg and John Muir Mural' for display at its Picture Gallery feature. Bravo.

click on picture to enlarge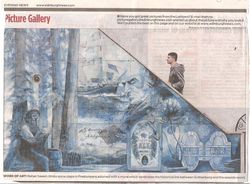 It was of course unveiled in 2003, yes that long ago, by Jorgen Linder Lord Mayor of Goteborg in Sweden, as the restoration of The Gothenburg here in The Pans began in earnest and a full year before it eventually reopened.

If you find it difficult to recall the occasion, just go to our Newsnet reports at the time.

Four Years Later, July 23rd 2007, and He's Coming Back ...

They must be prescient in Edinburgh [but let's not flatter them too much] because the Lord Mayor and his wife Lisbeth have personally resolved to come back and see how we have been getting along these past 4 years.

Watch these web pages for details of the programme in store for him and all of us in The Pans at that time. Not least he'll be launching the Goth's 100th Anniversary Year. Now there's a thought .....






Published Date: April 14th 2007