Deuteronomy 308/84: Lobster Newburg Day .. "After all, what was a Town Hall ...?"
Lobster Newberg is an American seafood dish …. made from lobster, butter, cream, cognac, sherry, and eggs with a secret ingredient now known to be Cayenne pepper. Lobster Newberg was originally introduced and named after Ben Wenberg a wealthy sea captain engaged in the fruit trade between Cuba and New York. When ashore he customarily ate at Delmonico's Café Restaurant. One day in 1876, home from a cruise, he entered the Café and announced that he had brought back a new way to cook lobster - where he originally got the idea for this new dish has never been discovered. Calling for a blazer/chafing dish he demonstrated his discovery by cooking the dish at the table and invited Charles Delmonico to taste it. Delmonico said: "Delicious" and forthwith named it in honour of its creator - Lobster à la Wenberg. The dish quickly became popular and much in demand, especially by the after-theatre clientele. [This was the very year Prestonpans Town Hall's first fund raising bazaar - see below - realised £405.10s.] After refinements by Chef Charles Ranhofer the creation was regularly added to the restaurant's menu and soon became very popular. However, a trivial argument between Captain Wenberg and Charles Delmonico caused the dish to be removed from the menu! As might be expected patrons' continued their requests for this popular dish and the name was rendered in anagram as Lobster à la Newberg or Lobster Newberg. It became a staple of hotel dining rooms across the USA and was amongst the most popular dishes served in the American Pavilion at the Paris Exposition/ World Fair of 1900 when the Eifel Tower was built! When Ranhofer's printed recipe first appeared in 1894 the lobsters were boiled fully twenty-five minutes, then fried in clarified butter, then simmered in cream while it reduced by half, then finally brought again to the boil after the addition of Madeira.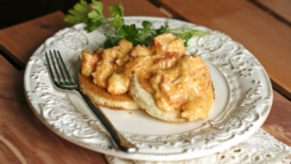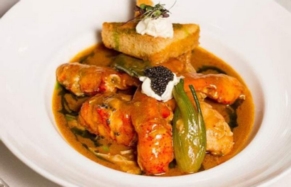 Today's big ZOOM decision on Prestonpans Town Hall 5 Year Lease! The idea originated on March 8th 1875 to establish a Literary Institute, reading room, library, lecture hall, amusement room etc. In 1876 a Bazaar realised £405.10s. In 1877 a second successful bazaar at Prestongrange led by Lady 'Susan' Grant-Suttie bringing the total to £900 which the Burgh matched with £600 on the strength of the General Improvement Rate thereby ensuring the £1500 required for the Hall. At its Opening 126 years ago in March 1895 Mr R.B.Haldane QC MP for Haddingtonshire had this to say: "After all, what is a Town Hall? It is a place in which the common spirit of those thrown together by a great common bond made itself manifest. They could not keep such a spirit alive without some building in which that spirit might be manifest, and at least they have got it in this Hall, which is worthy of you as a Burgh.... It is now the Town Hall of Prestonpans and is open to us all. My wish and hope is that you might make a use of it worthy of the exertions which have called it into existence". So we resolved to stay with the request for a peppercorn rental and I drafted our 'own' Heads of Agreement for them to consider. The other big issue was the 1745 Association Library where the cry was that we have no space for it; and more than that - is there a future for libraries as we used to know them. Important books/ editions are artefacts and the great majority often ephemera and of little relevance for research/ historians. And yet, we dream at the new Centre of a Jacobite Hub/ Research Centre …. so I've got an second challenging paper to pen in response.
Waitrose Click & Collect Clash! Alas the Battle Trust ZOOM clashed with our C&C at Waitrose in Towcester; not the first time. A previous double booking was at Tesco's in Wellingborough. However, we have the hang of the job so my assistance will hardly be missed - except it's a chance for a trip out. And it was the double benefit of wearing my Bergen tartan tie of course in honour of Kristine Cunningham's birthday - see Facebook! Whilst we were Zooming I had a first … Jules phoned three times and I cut him off without answering so he came over to see what was what. Not a lot really but he finally got Avril on her mobile who was C&Cing …. to fix up when we could finally do our trial run with our new gazebo!
Emerald Fennell hunts for Oscars. I had no idea … I came across her children's Shiverton Hall books from Bloomsbury that she wrote a decade ago. She had an appropriate name in Emerald and we've taken to eating fennel quite a lot of late! They're very well written but of course her career since then has whizzed along and she's a double nominee for "Promising Young Woman" — she was nominated for original screenplay as well.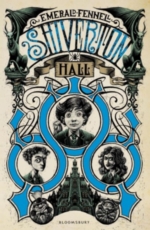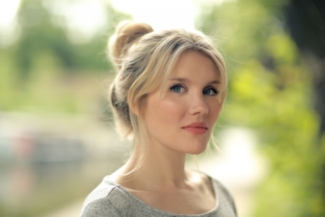 In a cover story Fennell said she knew she wanted to direct when she began "screenwriting in earnest because she found it hard to describe exactly what she meant tonally, and found that having created a world in her writing, she had the desire to deliver that world, and make it fully realized on-screen". She's done a book for Andrew Lloyd-Webber's new Cinderella opening this summer in London. She's appeared in numerous period drama films, such as Albert Nobbs (2011), Anna Karenina (2012), The Danish Girl (2015), and Vita and Virginia (2018) and received wider recognition for her starring roles in the BBC period drama series Call the Midwife (2013–2017) and the Netflix period drama series The Crown (2019–2020). She is also known as showrunner for season two of the BBC America thriller series Killing Eve (2019) which earned her two Primetime Emmy Award nominations. Her latest project is script writing in Hollywood - Zatanna film for Warner Brothers, set in the DC Comics Cinematic Universe!

Published Date: March 25th 2021