Deuteronomy 310/84: Second Jabs Received ... and the Birkenhead Drill
Beauty before age. They were ready to let Avril at less than 80 jump the queue with vaccination due at 12.20 whilst I had to return at 4.20. Or, who say's chivalry is dead; ladies [and children] first into the lifeboat? Avril even got in a minute early as shown! But I got more sticker badges than she did so that was compensation.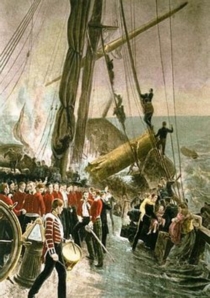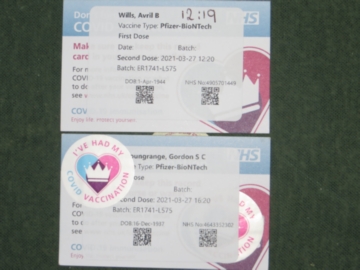 Women and children first doesn't apply here really. Always thought it came from a real life incident off the coast of South Africa in the 19th century and it does … but there's another attribution. It occurrs in William Douglas O'Connor's 1860 novel Harrington: A Story of True Love when recounting the death of Captain Harrington, father of the eponymous character John. It went further to encompass the Captain goes down with his ship! Here goes:
"Back from the boats" Captain Harrington shouts catchin' up the hand-spike. "The first man that touches a boat I'll brain. Women and children first, men. Timbs," says he, "give my love to my wife and boy, if I never see 'em again. God bless ye, men." The recounteur Captain Eldad paused, wiping away with his sleeve the salt tears which the simple epic of a brave man's death brought to his eyes. That was the story and them was the last words Timbs brought home to your mother ... An' that's the way he died. Women and children saved. That's a comfort...But he died... 'It was a manly way to leave the world', his son John said. 'Life is sweet to me with the memory of such a father'.
The Birkenhead Drill. HMS Birkenhead was launched in 1845 by the Marchioness of Westminster and was one of the first iron-hulled ships built for the British Royal Navy. Initially intended as a steam frigate she was converted into a troopship - the fastest and most comfortable of its era able to reaching the Cape of Good Hope in less than 40 days! In January 1852, commanded by Robert Salmond, it sailed from Portsmouth to take troops to the 8th Xhosa War in South Africa. After a brief stop at the port in Simonstown on February 1852, the last part of its necessary journey to Algoa Bay began with some 643 passengers. Salmond decided to steam along the coast at a constant speed of 9.7 mph close in to the shore. Sadly it struck uncharted rocks where upon Salmond ordered Colonel Seton to send sixty men to the chain pumps, sixty more to the tackles of the lifeboats and the rest were assembled on the poop deck in order to raise the forward part of the ship to help the lowering of and protect the cutter. All women and children were placed in that cutter which lay alongside. 193 in total survived the wreck including all 3 women and all 13 children. Captain Salmond went down with his ship which sank in 20 minutes. The sinking was memorialized in newspapers and paintings of the time and by Rudyard Kipling in 1893 - Soldier an' Sailor Too. …..
To take your chance in the thick of a rush, with firing all about,
Is nothing so bad when you've cover to 'and, an' leave an' likin' to shout;
But to stand an' be still to the Birken'ead drill is a damn tough bullet to chew,
An' they done it, the Jollies—'Er Majesty's Jollies—soldier an' sailor too!
Their work was done when it 'adn't begun; they was younger nor me an' you;
Their choice it was plain between drownin' in 'eaps an' bein' mopped by the screw,
So they stood an' was still to the Birken'ead drill, soldier an' sailor too!
Alba Party launched in Scotland. It's ironic that as I write of the fate of Robert Salmond the eponymous Alex Salmond, former FM of Scotland, launched his new political party to fight the May elections to the Holyrood Parliament. Already our East Lothian MP, Kenny MacAskill, has defected from the SNP for whom he sits at Westminster to join Salmond and both are standing for election as MSPs in May. Alex has had a torrid three years with the SNP Government encouraging legal actions against him all of which he has fought off; now's the time to see what difference he can make both to the SNP itself and to the neverendum on Scottish Independence from the rest of the UK so that it can join the European Union instead. I proposed a Vote of Thanks to Kenny at the Old Musselburgh Club a good few years ago; and Bryan was in the audience that day!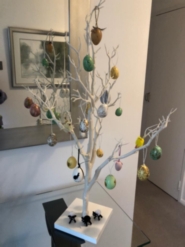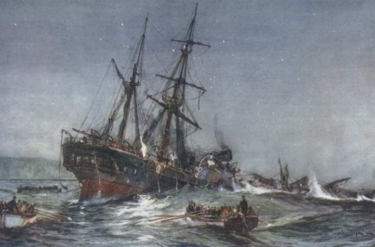 Easter Trees in Collingtree. Here's an unexpected sight … but pretty as could be; laden with eggs … Gill thought nobody but she and John would see it but the reach of social media decrees otherwise.
Scottish Battlefields Trust's Manifesto Drive. Martha Bryce managed to get Sunday Herald to run an article which high lighted legislation that Donald Trump had signed up to as President last July putting greater emphasis on battlefields. It's a great vector for the SBT and here's hoping both SNP and Alba will go for it …..


Published Date: March 27th 2021