Numbers 303/84: Blackbirds give precedence to Wood Pigeon
Two blackbirds taking a drink and along came a wood pigeon! That was before we took coffee at 11.30 with Laura and Julian, catching up on the grandsons' progress back at school; and Henry's football success. I was preparing to set our chairs up when onto the dining room patio came two blackbirds heading for Avril's two large flower pot saucers. They and other birds including our own robin take the water there. Must be known in the bird world as Milton Spa. Soon a fat wood pigeon also approached and they beat a retreat - didn't fly off, just accepted the big guy drank first. When said wood pigeon had finished it turned its back on the blackbirds then held that territorial stance for a couple of minutes before deigning to fly away. It seems to be the case that they need open water to drink [and bathe in] and swiftly become fat as a result of the crop milk they are fed by their parents - a very rich fluid produced in the adult birds' crops during the breeding season. The fat wood pigeon having departed the two blackbirds returned for their drink too in peace!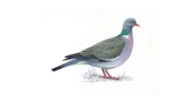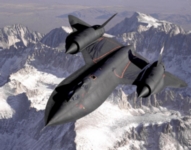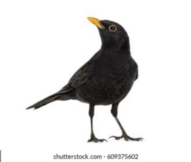 The surprise is the Lockheed SR-71 Blackbird reconnaissance aircraft surely? It is the fastest plane ever built reaching Mach 3.2. Flying at 80,000ft meant that crews could not use standard oxygen masks and needed pressurized suits. An emergency ejection would subject crews to temperatures of about 230°C and an onboard oxygen supply would keep the suit pressurized during the descent. The cabin needed a heavy-duty cooling system as cruising at Mach 3.2 heated the aircraft's external surface well beyond 260°C and the inside of the windshield to 120°C. An air conditioner used a heat exchanger to dump heat from the cockpit into the fuel prior to combustion to keep the front nose landing gear bay cool thereby eliminating the need for the special aluminium-impregnated tyres. Pilots were provided with food and drink for the long reconnaissance flights; water bottles [no saucers!] had long straws which crewmembers guided into an opening in the helmet by looking in a mirror. Their food was contained in sealed containers similar to toothpaste tubes which delivered food to the crewmember's mouth through the helmet opening. 50 were built of which 12 crashed howsoever and they came out of service at the end of the 20th century.
Blackbirds is slang for South Sea Islanders brought to Australia as de facto slaves …. used as low cost labour in the 19th century. They came from the Solomon Islands and from Vanuatu. One of the major recruiters was Captain Towns, emigrant from Northumberland, who gave his name to modern Townsville as the town there grew and prospered from cotton growing and more besides. The hands on his statue have lately been daubed red! By the end of the 19th century when the newly independent Dominion was poised to launch its White Australia Policy there were many thousands of such indentured labourers. 1901 saw Pacific Island Labourers Act which forbade the further import of South Sea Islanders after March 1904 and mandated for the forcible deportation of all Islanders from Australia after 1906. Around 4000 to 7500 were deported in the period 1906 to 1908 while approximately 1600 remained who had married a white Australian or been in the country more than 20 years. The Burns Philp company won the contract to deport them back to the Solomon Islands - many returned to their homes again but many more did not to their great distress.
Bombed by Japanese in WWII. Townsville is a major military and air force base and attracted the attention of the Japanese in WWII. It's home to James Cook University to which I have urged my grandchildren to travel to study Beach [and Coral Reef] Management without success. Maybe Eleanor after marine biology at Falmouth will take the plunge … Townsville's famous sons have recently included Greg Norman the golfer and Julian Assange the notorious Wikileaks guru. The city now has a population approaching 200,000 and its port facilities at the mouth of Ross River flowing into Cleveland Bay grew up for hinterland pastoral industries and more recently for lithium and other mining activity as well the necessary focus on marine life and the Great Barrier Reef offshore. The River Ross was so named after the town's first publican and later Mayor, William Ross.
Four and Twenty ….. The rhyme's origins are uncertain some suggesting Shakespeare's Twelfth Night [c. 1602] where Sir Toby Belch tells a clown: "Come on; there is sixpence for you: let's have a song" and in Beaumont and Fletcher's Bonduca [1614] which contains the line "Whoa, here's a stir now! Sing a song o' sixpence!" In fullest verse it has often been attributed to George Stevens [1736–1800] who used it in a pun at the expense of Poet Laureate Henry James Pye but the first verse had already appeared in print in Tommy Thumb's Pretty Song Book, published in London around 1744. Here goes ….

Sing a song of sixpence /A pocket full of rye /Four and twenty blackbirds /Baked in a pie /When the pie was opened /The birds began to sing/ Wasn't that a dainty dish/ To set before the King.

The King was in his counting house/ Counting out his money /The Queen was in the parlour /Eating bread and honey /The maid was in the garden /Hanging out the clothes/ When down came a blackbird /And pecked off her nose.

And shortly after that /there came a little wren /As she sat upon a chair/ and put it on again.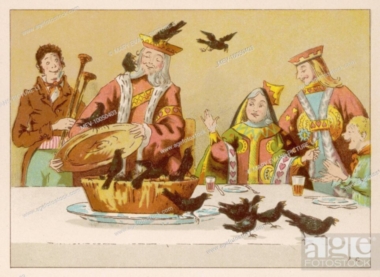 Published Date: March 20th 2021