Numbers 299/84: There can be good news - Blackthorn shows the way ...
Unexpected resignation, environmental disaster and kidnaps - all on even date! In 1976, whilst we were quietly settled at the University of Tulsa Oklahoma, the bicentennial anniversary of the Declaration of Independence, Mathew and Julian both in school there … Prime Minister Harold Wilson shocks the political world by announcing his resignation after being the Labour leader for 13 years and Prime Minister for almost eight years. His only public explanation was that he wanted to make room for his successor amongst his colleagues well before the next General Election due in 1979. In truth he was in declining health and his wife Mary, a poet, had no real taste for political life. They kept a home in the Scilly Isles although he was a Huddersfield boy who made his way by local Grammar School to a brilliant academic career before WWII. Although his two governments achieved a great deal of social reform they never managed to find the elusive answers to socialist economics. And so it was a poisoned chalice he handed to James Callaghan after a memorably unwise Resignation Honours List. Callaghan's tenure saw him propped up by Scottish Nationalists in the Commons who secured a Referendum on Independence which they lost. He fell in May 1979 to Margaret Thatcher who led the nation for a further decade with considerably greater economic success.
March 16th 1978 saw Italy's Aldo Moro, former Prime Minister, kidnapped in Rome with his escort of five police bodyguards all killed when he was snatched from his car in the morning rush-hour. The Red Brigade claimed responsibility. He is pictured earlier with Harold Wilson.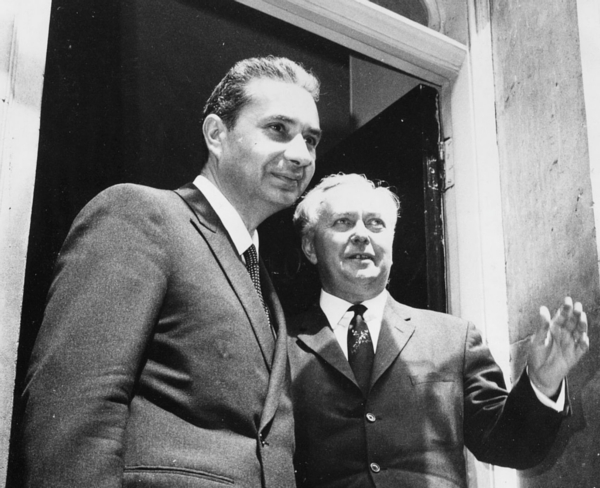 As a Christian democrat with social democratic tendencies Moro is widely considered one of the ideological fathers of modern Italian centre-left. During all his political life, he implemented numerous reforms which deeply changed Italian social life; along with his long-time friend and, at the same time, opponent, Amintore Fanfani, he was the protagonist of a long-standing political phase which brought the social conservatives towards more leftist politics, through a cooperation with the Italian Socialist Party first and the Italian Communist Party later. He was a friend of Pope Paul VI who offered himself to the Red Brigade as hostage but it was impossible to accede to the terrorists demands and they executed him after 55 days leaving him in the boot of a car.
March 16th 1978 also saw the Amoco Cadiz tanker wrecked off the coast of Portsall, France losing 68 million gallons of oil that caused the worst environmental damage ever encountered to 240 miles of France's Brittany coastline. En route from the Persian Gulf to Rotterdam the ship encountered stormy weather with gale conditions and high seas while in the English Channel. At around 09:45 a heavy wave slammed into the ship's rudder and it was found that she was no longer responding to the helm. Attempts to repair the damage and regain control of the ship were made but proved unsuccessful and at 10:20 the ship messaged that it was "no longer manoeuvrable" and asked other vessels to stand by with a call for tugboat assistance at 11:20. The German tug Pacific responded and arrived on the scene at 12:20 but because of the stormy sea no tow line was in place until 14:00 and it broke off at 16:15. Attempts were made to establish another tow line and Amoco Cadiz dropped its anchor trying to halt its drift and although a successful tow line was in place at 20:55 all this proved incapable of preventing the supertanker from drifting towards the coast because of its huge mass and storm Force 10 winds. At 21:04 it ran aground the first time flooding its engines and again at 21:39, this time ripping open the hull and starting the oil spill. Her crew was rescued by French Naval Aviation helicopters at midnight and her Captain and one officer remained aboard until 05:00 the next morning. At 10:00 on 17 March the vessel broke in two, releasing its entire cargo of 1.6 million barrels of oil, and broke again eleven days later from the buffeting of high stormy seas. Ironically as I capture this history I am reading Annemarie Allan's Breaker inspired by the disaster in Alaska of the Exxon Valdez in 1989.
Terry Anderson, American Middle East correspondent for The Associated Press, was also kidnapped on even date in 1985 in Beirut, Lebanon by Islamic militants. He was not released until December 1991 after 2,445 days. Just as Aldo Moro had the support of the Pope Terry had that of the Archbishop of Canterbury.
Finally the blackthorn pictures. And Mathew's Mother's Day 100 daffodils. Soon come the tulips ….. Other good news was that tonight our Sunday beef was transformed to Beef Stroganoff …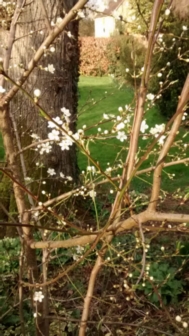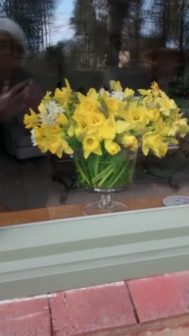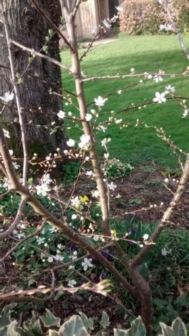 Published Date: March 16th 2021