Numbers 286/84: Eden Project - 1745 Battle Orchard .... and Canadian bacon
Getting Ahead with the farming. The simple answer has been from ELC that at both tenders they've gone for the 'best' bid. So, conclusion is make our's best next time. And we wont be waiting for the magic moment; we know the lease expires later this year and in the interim we'll develop a combination case as to why it's 'best' in community and heritage interests to back the proposals we make. First immediate step is to enter an alliance with the 2008 Battle Orchard Group that planted 46 apple trees along the pathway to the battlefield with BBC support and more. That brings into play Shona Brash and Annemarie Allan, old protagonists for The Pans. Shona's family garaged Wiles buses and Annemarie specialised in our 81 Witches and a lot more. Shona and her sister Julie Aitken restored the lion's foot on the Gardiner Obelisk in memory of their father, a staunch Jacobite! Keen to get PL and its chemist/ brewers engaged as well as Edinburgh College under our partnership agreement there. Added to these two strands there's now a proposal for a Cockenzie Eden Project.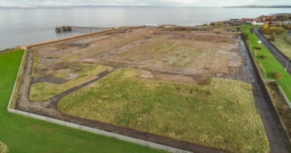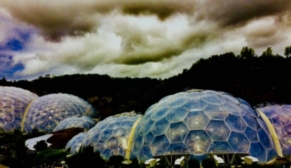 Cockenzie's own Eden could be created at the former Cockenzie Power Station site as part of a bid to deliver the country's first climate change centre. The 360 Centre is described as a green education centre which will bring together the county's fishing and mining heritage alongside art installations and cutting-edge technology for the future. It's promoted as a facility that could attract thousands of visitors and 200 jobs in the initial stages.
It was time for my Review blood tests. I'd had pre-Hip-Op tests twice in 2020 but not for discussion with Dr. Taylor as my GP. An appointment was straightforward at 10.22/ 10.28 and I was back in the Dovecote in time for …
ZOOM with ELC's Planner for NPF4/ SEA. That's the beckoning reckoning for the former Cockenzie Power Station lands including the battlefield as the Council bids for national recognition and funding support for extensive 'urbanisation' i.e. housing for Edinburgh commuters over the next 30 years. Blindwells is just an harbinger of much to come. The Battle Trust's key issue was the Vision Statement in 2020 that envisaged a Water Park/ Sports Centre on the eastern field of battle. Our comments had been given but we'd not seen what HES, host to the National Battlefield Inventory, had added. It had been sent to ELC on September 28th 2020 and was shared with us at 4pm yesterday prior to this morning's ZOOM. It was in fact a most heartening contribution in which HES agreed with the Trust that the presence of the battlefield had not be taken into suitable consideration in the development of the plans - and that it should be. In the aftermath of 2020 stooshies at Killiecrankie for dualling the A9 and at Culloden it seems that HES is at last starting to take 'heritage enhancement' in the face of development initiatives more seriously. The door is accordingly open for the Trust to advance its positive case for the battlefield being a significant element in the future designs rather than a heritage asset that must be allowed for. We have a case to make for NPF4/ SEA in the way it has just started to dawn on me/ us we should be doing for battlefield farming; and as we have done lately for Prestonpans Town Hall with a widespread community basis.
Snow drops to Silverstone. Sylvia expressed interest some while back in having snow drops having seen just how well ours were doing so … today was the day Avril practised her driving skills ahead of tomorrow's marathon to Kettering for Recall on her Citroen Cactus … we're expecting to make the drop off at Oakham too as we say hi to Pamela who is now safely at home after her spells in Peterborough Hospital. Mathew's had an online video call with her just lately too so we're staying in touch and she's been able to see Freddie the grandson too.
Today is Canadian Bacon Day! It's really a misnomer. The only place they call it that nowadays is in the United States! Just as they don't call Buffalo Wings that in Buffalo. Canadian Bacon probably got its name because in the mid 1800s there was shortage of pork in the United Kingdom and they imported it from Canada and then exported back to the US. It's a a form of back bacon that is cured, smoked and fully cooked then trimmed into cylindrical medallions, and thickly sliced [as shown]. Canadian bacon is made only from the lean eye of the loin and is ready to eat. Its flavour is described as more ham-like than other types because of its lean cut. In Canada today asking for Canadian bacon in say Toronto you would probably get bacon preserved in pea meal! There's an [unsuccessful] satirical 1995 movie Canadian Bacon and a Canadian Bacon Mountain peak in the Bacon Range in the North Cascades National Park in Washington State @ 6200ft …. it's clearly a focus for inter nation joshing! The movie sees a US President try to boost his sagging approval ratings by starting a war with Canada ….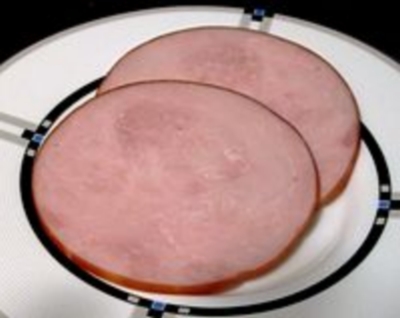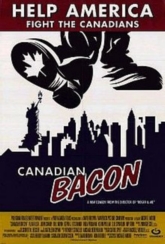 Published Date: March 3rd 2021