Numbers 284/84: St David ... good weekend then ...
Welsh crush English XV and take Rugby Unions Triple Crown. 40-24. All this on the weekend preceding St David's Day today and even though the French referee admitted later that two Welsh tries should not perhaps have been allowed! Frankly we did better against them in Scotland just losing 24-25; Ireland only lost 16-21. Now Wales go for the Grand Slam having to beat France and Italy. It's doable but the French can be mercurial. To the world at large the Welsh are legendary in their love of rugby union and as singers. Their red/ Welsh Dragon [Y Ddraig Goch] appears in Celtic/ Welsh Folklore named Dewi after …
Patron Saint Saint David [Welsh: Dewi Sant] was born in Caerfai, south west Wales into an aristocratic family and a scion of the royal house of Ceredigion. He founded a Celtic monastic community at Glyn Rhosyn [The Vale of Roses) on the western headland of Pembrokeshire [Sir Benfro] at the spot where St David's Cathedral stands today. His fame as a teacher and his asceticism spread among Celtic Christians and he helped found a dozen monasteries. Glyn Rhosyn became an important Christian shrine after his death which is believed to be have been 1 March 589. His final words to the community of monks were: "Brothers be ye constant. The yoke which with single mind ye have taken, bear ye to the end; and whatsoever ye have seen with me and heard, keep and fulfil." For centuries 1 March has been the national festival with recognition as patron saint in the 12th century at a peak time of Welsh resistance to the Normans; he was canonised by Pope Callixtus II in 1120. 17th century diarist Samuel Pepys noted how Welsh celebrations in London for Saint David's Day would spark wider counter-celebrations amongst their English neighbours: life-sized effigies of Welshmen were symbolically lynched and by the 18th century the custom had arisen of confectioners producing "taffies" — gingerbread figures baked in the shape of a Welshman riding a goat—on Saint David's Day. The leek which you will often see being worn with pride on St David's Day is not a native vegetable of Wales. It was introduced by the Romans during their invasion. The 'national' flag of Wales was not the dragon now display since 1959; it was often adopted from St David's cross illustrated, which was carried by Henry VII who overthrew Richard III to introduce the House of Tudor as English monarchs. Henry was born in Pembroke, son of the Earl of Richmond, and Margaret Beaufort, born nearly three months after his father's death. That father was the son of Owen Tudor, a Welsh squire, and Catherine of France, the widow of King Henry V. As King his Royal Arms had a Red Dragon as Supporter and the Red Roses of Lancaster at their base.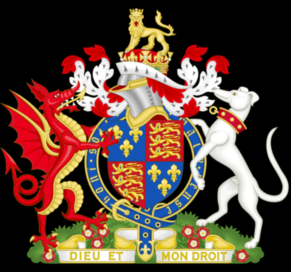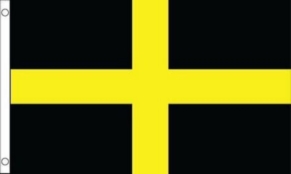 There are possible reasons why the leek and daffodil have become iconic symbols of Wales. And to celebrate St David's Day children are in 'normal times' sent off to school dressed as coal miners and Welsh women often with a leek to set the outfit off. According to one legend the soldiers of the British King Cadwaladyr were encouraged to wear leeks in their helmets in order to recognise fellow countrymen during a battle with the Saxons - this tale has also been attributed to St David himself. Another story is 1346 when the then Prince of Wales, Edward the Black Prince, defeated the French at the Battle of Crécy. Welsh archers are said to have fought bravely in a field of leeks and as a reminder began to wear a leek in their caps every St David's Day. Tudor royal household accounts list several payments for leeks in connection with St David's Day and Henry VIII is said to have presented his daughter with a leek for the festival. By the 18th century the leek had become a bit of a caricature and this may explain why daffodils became a popular alternative. Daffodils naturally appear in early spring around the time of St David's Day but their association with Wales is comparatively recent and thought to have gained prominence as an alternative to the leek over the last century. David Lloyd George, the only British Prime Minister to date, was said to be an advocate of the daffodil being used as a symbol insisting the flower be used during the 1911 investiture of the then Prince of Wales, the future Edward VIII. It is worth noting that the Welsh Guards Regimental Badge is a leek not a daffodil; they were established during WWI.
Excitement in Milton Malsor? We've been online shopping in Suffolk for Nick's 60th birthday at Pamela's request; she paid us by cheque so we made the habitual walk to the post box on the Village Green to bank it on Strand. And of course we noticed the new developments! Ever since Sam Madden closed the Village Post Office some 4/5 years ago our 'local' shop has deteriorated but no longer. Evidence before our eyes suggests rebirth. Our New Today's Store is Coming Soon.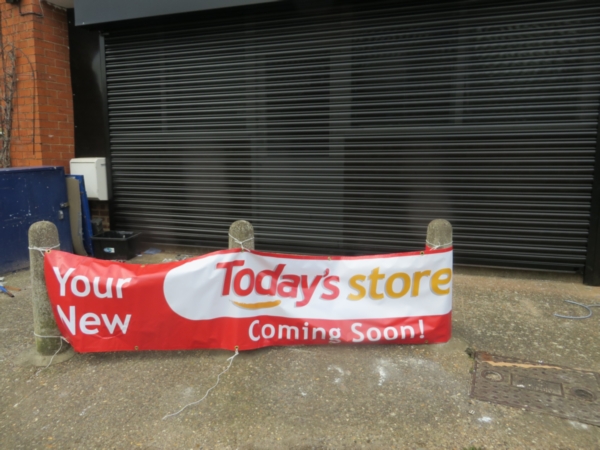 I'd seen casual workers fixing shelving inside and a new front being added; now a nice grill to keep Milton's vandals at bay. Will we get a post office again we wonder? Fresh croissants each morning with the Daily Telegraph? It's a wholesaler backed [Unitas - total sales £8.5billion] symbol convenience store that's got 'more than 1000 locations across the UK' already; seems to be hubbed from Doncaster in Yorkshire! Yes, there's a supermarket version already in Northampton @ 42 Gloucester Ave, Northampton NN4 8QF. Must investigate then.
Welsh flourish to close the day. Julian was able to find two leeks for us to enjoy at dinner time. Avril conjured Poached Leeks with Pepper and Parsley White Sauce [Cennin wedi'u potsio gyda saws pupur a phersli]. It was accompanied by a glass of Terre Siciliane Vermentino. And from BBC a journey all along the coastline of South Wales to St David's Cathedral.
Published Date: March 1st 2021