Numbers 277/84: Our Future according to Boris ....
Big Day. Where's the Boris Bounce? He rose at 3.35pm to the Despatch Box in the House of Commons … and resolutely confirmed that the schedule he set out is a one way street; no way back. As and when a future medical emergency arises the NHS and Social Care must cope rather than expecting the nation to sacrifice its lives and its livelihoods. [See precise phrasing of [iii] below.] The key dates he announced are subject to four data sets staying on their anticipated trajectories viz. [i] the vaccine rollout keeps going as planned; [ii] vaccines are effective in bringing down deaths and hospitalisations; [iii] case numbers are not rising so fast that the NHS risks being overwhelmed; [iv] new variants do not create unforeseen risks. So long as these hold steady -
The sun shone and the daffodils look splendid!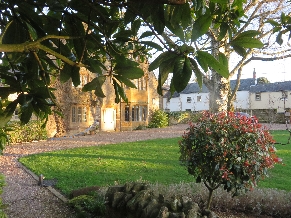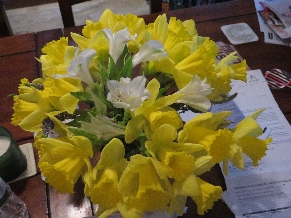 March 8th - all education up to but not necessarily including universities to resume. It will resume in accord within a range of well established and sensible guidelines and teachers have two weeks to get ready - they've known the date for a month already. This is great news for the grandsons Henry and Elliot … all normal activities for schools can be resumed including sport and clubs, playing the saxophone …. etc. Rest of us stay at home until ….
From March 29th - OK to meet outdoors with others up to six. So, we've already convened a 12 noon barbecue lunch with our family in the Big House; and Gerry and Audrey can meet with Jules & Co in Buckingham or at the Big House. Message re Weymouth looks unhelpful since travel advice is stay local and don't stray overnight until …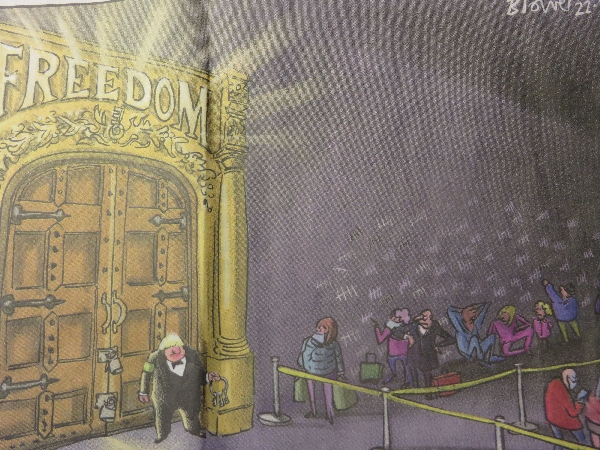 April 12th … there's a new moon and travel to Weymouth will be permissible, pubs can open outdoors as can hairdressers and non-essential retailers. A flurry of emails confirmed because of teaching and schooling the sons' families wont be able to get to the seaside until the 28th May / June 6th for the Spring Bank Holiday when the benefits below will be available too! However, Avril and I will be heading there on April 12th and we've offered Lorna and Tashie the chance from London to take discrete weekends there during this period if they so care.
May 17th … pubs can open indoors but with suitable restrictions in place which will be good for our sons' families and of course for my son Duncan of York too.
June 21st … We go again - all systems; … using social distancing sensibly …
Scotland to make its pronouncements later this week which will of course impact greatly on the Battle Trust and the Gothenburg.
All this means my literary horizon's gang agley. John in Angouleme and I have been working on the final instalment for Existential Normal to be March 22nd i.e. 365 days after the original lockdown. A resounding finale under the banner headline Deuteronomy was planned. It's not quite clear what new scheme 'the mouse' here can devine; perhaps a Weekly Deuteronomy Continuum from March 29th until June 21st? We'll see how it goes. What I have received from my treasured resource, Jane Shilling of the Daily Telegraph, today is that she finds the journals of the rich and famous … the perfect lockdown read. She is of course just returning the compliment since I have used lockdown hours to read the first of her two published memoirs; the second is still on order. Might not be rich or famous but I take comfort in her fascination with journals although the one in question was from Sir Henry "Chips" Channon, as anti-Churchill/ pro-Fascist in the late 1930s as could be. Jane characterises him as "this preposterous and touchingly flawed diarist." She suggests the historians of 2071 will get less solace from our social media harvest. She concludes, reassuringly, that "public faces in the private places of their journals may not be wise or nice but they are great company in hard times."


Published Date: February 22nd 2021