Numbers 276/84: Happy Birthday Dr Mathew of Prestoungrange ....
All Zoomed well at 11.05am. They were all there with father - Lorna & Tashie from London, Frankie as well as Kathryn chez lui and ourselves in Milton …. There was a slight technical hitch to get started but no worries; first picture Mathew and his mother, both misnamed on screen, shows the two who were there on 21.02.1967 at St Luke's Hospital in Bradford. Mother of the three daughters all in attendance has picture withheld … she was busy organising the presents on a virtual conveyor belt! The London based daughters enhance their reputation for bed hopping. Click to enlarge all pictures!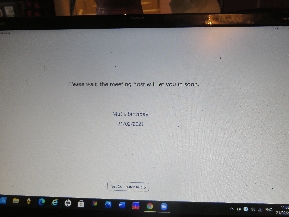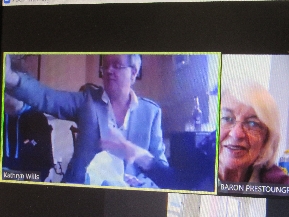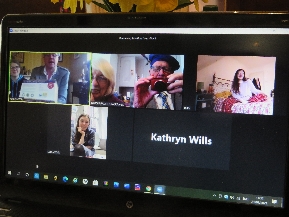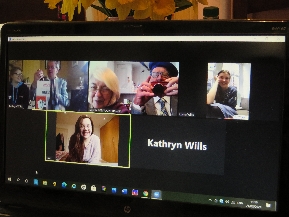 …… and of course there's a cake, made with Lorna the Queen of Cakes not in attendance in Ilkley …. but why the peat free compost? Well Mathew's birthday is always the harbinger of Spring and today he was just the warm-up act for Boris Johnston's Road Map out of Lockdown due February 22nd. And to honour both events Avril is determined to start planting the free seeds she's been getting from her Gardeners World subscription. Special offer 3 bags/ £18 at Dobbie's too hard to resist so as soon as Mathew was off air we headed to the Garden Centre. Talking of 'peat free' today's newspapers report the dream call to re-bog 20% of England with peat because its benefits for the environment have been scientifically proven … and nowadays the everywhere catch phrase is 'follow the science'.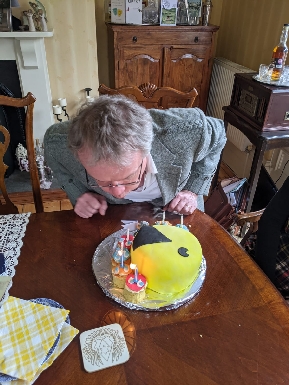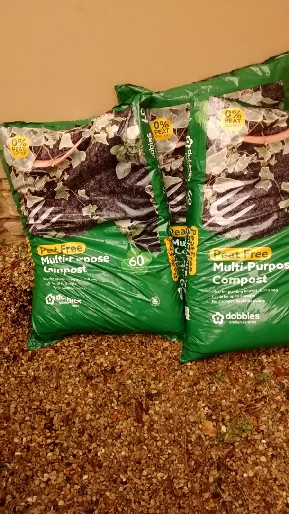 We go again! Talking of catch phrases this is the latest I've learnt in lockdown football's mad world of two/ three fixtures a week. As you lose one game you've gotta focus on the next … We go again! And thus it is with the bad/ good news from Scotland where our bid to farm the battlefield in 2021 has been trumped by an as yet unknown other. We bid £10,001 which was £1 more than they asked and publicised the fact which friends say ensured we were outbid. True; but Machiavelli reliably says - the story of our ambition is well documented as was our derision at the previous two years when East Lothian Council's take on heritage was to grow sprouts out of solidarity with the EU and Brussels, We go again then, for our five year lease on Prestonpans Town Hall from the County Council.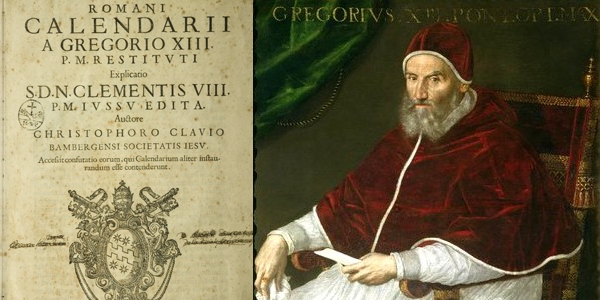 February 21st 1583 was also a big day for Pope Gregory! Groningen in The Netherlands came out in his support. Julius Caesar had calculated that a year lasted for 365 days and six hours but that didn't properly reflect the actual time it takes the Earth to circle once around the Sun known as a tropical year. In fact it is only 365 days, five hours, 48 minutes and 45 seconds. Not much difference but enough, 1,600 years later, to have the world astray by a whole week! And so it was that on this day Ugo Buoncompagni, an Italian better known as Pope Gregory XIII, introduced his own calendar – the Gregorian Calendar – which ironed out the discrepancies. To achieve that result Gregory needed to lose a few days so under his new system October 4, 1582 was followed the next day by 15 October and whilst at it he decreed that New Year's Day should be moved from 1 April to 1 January. Then there was the need for leap years to keep the calendar in permanent alignment. Gregory calculated that if we didn't add a leap day on February 29 nearly every four years we would lose almost six hours off the calendar every year. After only 100 years he too would be astray like Julius Caesar - by 24 days. So necessarily there was one final flourish … he stipulated that century years, even though divisible by four, are not leap years except … when they can be divided by 400. Thus, 2000 was a leap year but 1900 was not. The Gregorian calendar was to become accepted worldwide even though some countries stuck out for Julian. Great Britain did not accept Gregory until 1752 and Greece held out until 1923. The last convert was Turkey which finally accepted the Gregorian calendar in 1927.




Published Date: February 21st 2021