Numbers 297/84: Mother's Day with side stories .... and White Day
Mother's Day well respected. It was always going to be a good moment but with lockdown it provided an extra uplift and focus duly taken. After her customary tea in bed the day's schedule was a videophone call with Mathew at 1pm and CuppaTea with Julian at 2pm. After that it was for me to prepare lunch as forecast which arrived with no hitches at 4pm - Lamb Shanks with cauliflower cheese, leeks and Kenyan green beans; and lemon tart with a slice for dessert. It's a Martini and Russchian cocktail of course. By 8.30pm the Call from Edmonton enabled us to share our goings on … and enquire of their's with them now just 6 not 7 hours behind on the clocks for a fortnight!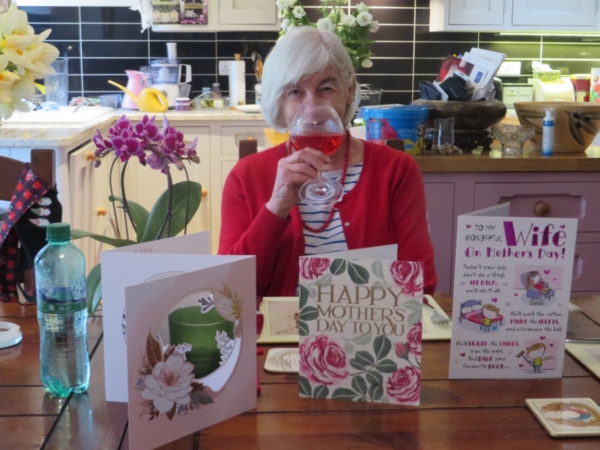 Avril got nice cards and to her right a lily from Julian; Mathew persuaded M&S to deliver 100 daffodils at 10am too as pictured. They'll be worth seeing again no doubt this coming week. There's a clue to significant other news - Mathew and Kathryn both travelled to the back door of Rimmington's old established Pharmacy, blue plaque and all, in Bradford for their first vaccine jabs. They've both previously had the virus in a mild annoying form.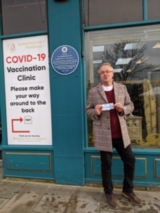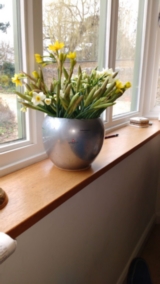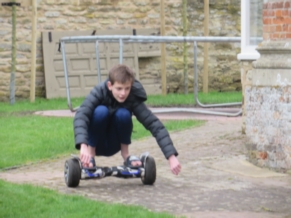 Henry was present with his football but had found time to bake some excellent fairy cakes with lemon icing for his mother's day contribution; Elliot appeared first in his dinosaur outfit and then aboard his Hoverboard demonstrating extraordinary balance and gaining good speeds.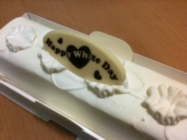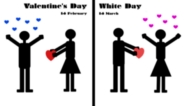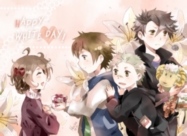 White Day was first celebrated in 1978 in Japan. It's March 14th and was started by the National Confectionery Industry Association as an "answer day" to Valentine's Day on the grounds that men should pay back the women who gave them chocolate and other gifts on Valentine's Day; the committee of the association who came up with the day were all middle-aged men meeting at Keio Plaza Hotel in Tokyo. The day was so named because the colour white is considered a symbol of purity and is closely associated with an innocent kind of teen love in Japanese culture. On White Day men are expected to present girls with gifts roughly two or three times the value of what they received a month earlier! Soon confectionery companies began marketing white chocolate but nowadays men also offer non-edible gifts with sentimental value such as white lingerie. This Japanese occasion has spread internationally including China, South Korea, Taiwan and Vietnam. In South Korea, a month after White Day those who did not receive any gifts, dedicated bachelors, even commiserate together on Black Day!

Published Date: March 14th 2021