Numbers 269/84: St Valentine's Day ...
There's a surprise! Not only the unique occurrence of breakfast served in bed but with heartily shaped freshly baked muffins … and excellent coffee. The glass cake stand will be recognised in Edmonton as an heirloom from Mother Audrey's which Anne passed along to us some years ago.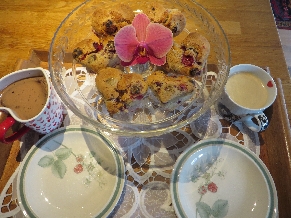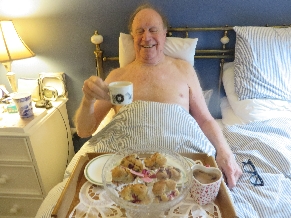 Emperor Claudius II executed two Valentines in the 3rd Century - both on February 14th. They were not in the same year but the date was consistent enough for the Roman Catholic Church to take that date for their remembrance. For Saint Valentine of Terni along with Saint Valentine of Rome "abstracts of the acts of the two saints were in nearly every church and monastery of Europe" and intriguingly Roman Martyrology has preserved the memory of a third Saint Valentine, a presbyter and martyr. Most references cast St. Valentine as a Roman priest and physician who suffered martyrdom during the persecution of Christians. When Valentine's actions were discovered Claudius had ordered that he be put to death. He was arrested and dragged before the Prefect of Rome who condemned him to be beaten to death with clubs and to have his head cut off. He was buried on the Via Flaminia and Pope Julius I reportedly subsequently built a basilica over his grave. Other narratives identify him as the Bishop of Terni in Italy who was martyred also in Rome, and whose relics were later taken to Terni. It is possible these are different versions of the same original account and refer to only one person. According to legend St. Valentine signed a letter "from your Valentine" to his jailer's daughter whom he had befriended and healed from blindness. Another common legend states that he defied the Emperor's orders and secretly married couples to spare the husbands from war. All are deemed to be messages of love hence the cause for celebrations today.
Certainly not how we usually spend the weekend! It's always our combi-Wedding Anniversary Celebration [19th] as well each year and we normally head off to somewhere unusual and always memorable. For instance there was the windy hotel [now out of business] on Portland Island; Lincoln with a visit to Spalding to find no bulbs; less than fine dining in Dorchester; Haworth and a Penguin mug from the Brontes; and one year at Cromer in Norfolk … all memories to share at dinner tonight - it's Official Dining In Night. Three course menu on offer from First Slice Your Cookbook [1964] from Lady Arabella Boxer, daughter of the Earl of Moray and Avril's first receipe book as a home chef. It was published by Thomas Nelson, the very same house that took several of my own early works. This year we dined on Andalusian Gazpacho of tomatoes, green peppers and onions; Poached Scottish [?] Salmon with new potatoes, green beans and spinach; Rhubarb Fool - all with Rosé wine. As we finished and ate Anne's Rogers' chocolates the call from Edmonton came through. Still very cold there but the Arctic Vortex has seemingly retreated so it's now only -17 degrees; we are warming up this week with some rain but no promise of sunshine.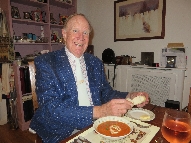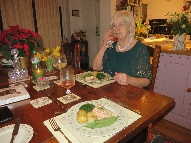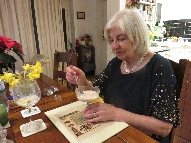 Valentine's Day in 1929 was quite a year! First there was the infamous Day Massacre when seven gangster rivals of Al Capone were murdered in Chicago when Jack Machine Gun McGurn ordered the killing of key rival George Bugs Moran. The good news was that in England on even date Alexander Fleming discovered Penicillin when, after leaving a plate of staphylococcus bacteria uncovered, he noticed that a mould that had fallen on the culture had killed many of the bacteria. Our newspapers today in 2021 report that the second attempted Impeachment of President Donald Trump by the opposition Democratic House of Representatives had failed and he was acquitted in the Senate of the charge of inciting insurrection. Harry & Meghan Sussex from LA announced that she is pregnant and we got Good News Statistics for 2021 show today that report more than 15 million people in the UK have had their first anti-Covid10 injection - that's almost all the highest risk categories for hospitalisation and mortality. Now for the Pathway Back to Normal … set for February 22nd. When can we get to Weymouth/ reopen The Gothenburg?
Ilkley's celebrations seek ice on the Moor! ...and find it of course. It's Linndale alright but further up ont' Moor, not as it thunders past their own house …. but roses can still be red and violets are always blue ….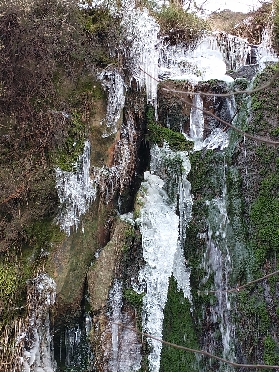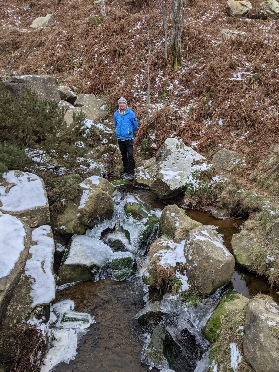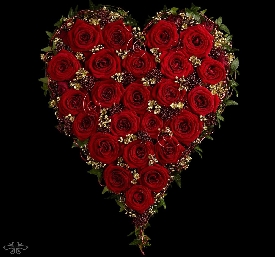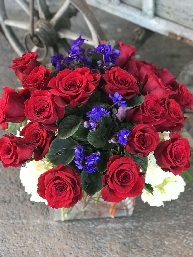 Published Date: February 14th 2021