Leviticus 265/84: Umbrella Day ..... sgàilean .. shade ... umbra
Only good for vertical rainfall in UK? Today is Umbrella day! It was tempting to believe that the British invented the umbrella since carrying one, black rolled, was a key part of the office gentleman's uniform. Like the officer's 'swagger' stick I proudly sported in the Royal Air Force. But of course it's been in use since prehistoric times in hot climates not to ward off the rain but as a shade, a parasol. The Gaelic word sgàilean is for a shade. Today's pictures from The Lodge show first the remains of our patio sun shade, its use closely associated with the barbecue set. Secondly, inevitably, memories of parasol uses in Port Vila in Vanuatu. A treasured souvenir is from Venice when we were caught in a shower! Which tale strongly reinforces the known folklore statistic that sales of umbrellas in the UK are highest after it stops raining rather than before. It's got tail end Charlie spot here today. All umbrellas are of course quite useless if the wind speed associated with the rain gets much above 15mph.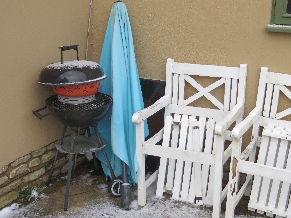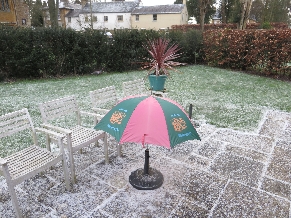 Who really invented umbrellas? The earliest recorded were parasols designed by the Egyptians around 1000 B.C. made from feathers or lotus leaves attached to a stick and were held by servants to offer shade to the nobility. Whilst English slang calls our rain protectors brollies the French make discrete provision for rain, parapluie, and sunshine, parasol. The particular word "umbrella" evolved either from the Latin umbella [an umbel is a flat-topped rounded flower] or from umbra meaning shaded or shadow. The first recorded written usage was in 1610. London's byword for the umbrella is James Smith who founded the enterprise in 1830 with manufacture and retailing on the same premises. In 1851, Samuel Fox invented the lightweight steel frame and umbrellas grew in popularity. James Smith II was one of the first makers to use Fox's frames & his business grew to the point where he had to move to a larger premises in 53 New Oxford Street where the shop remains to this day - a Grade 2 Listed structure seen below.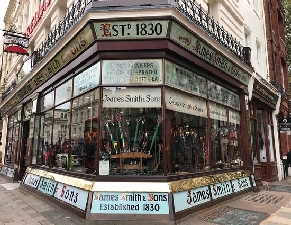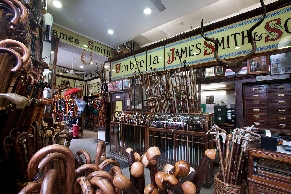 Two excursions today on significant business. I shall be wearing my Bergen tartan tie but no need for an umbrella. After snow flurries first thing we've got sunshine, but as yet no need for a parasol. Good news for The Manor House Cellar's 4" of water if the precipitation holds off. Thus far Storm Darcy has been a storm in a tea cup for us. The first excursion is as far as Delapre Royal Mail to post off the promised books to Lynn Pringle at Bellway for The Prince's Park at Blindwells. The same trip will see Mathew's 54th birthday gifts despatched and we've included in the parcel three pairs of socks, one for each granddaughter in Ilkley. We could only get 2 each into Jiffy envelopes at Christmas as they were stranded in London digs and still keep within the large letter category! I got an education at the Post Office too - since they were the same address the two packets for Lynn qualified as an 'assignment' saving a bob or two; and at last got my hands on the current price list. Also had the chance to pop into my Co-op and grab a couple of fresh croissants. The second excursion is for Tesco's Click & Collect from 5/ 6pm as driver for Avril. No sign yet of Anne's long awaited chocolates from Victoria BC … soon we'll need to reorder the M&Ms.
Oilers and Leeds send us happy to bed! Always looking for good news and Anne reports the Oilers are on a roll at present beating the Ottawa Senators 3-2 last night; and Leeds United are above Arsenal in the Premiership and, wait for it, they achieved that by beating Crystal Palace 2-0; even the Northampton Cobblers drew with Accrington Stanley before going down 1-0 to Wigan yesterday; and the Saints are finally on a three match winning steak beating Worcester, Gloucester and Wasps after an abysmal autumn. And humble Weymouth have lifted to fourth from bottom in the Vanarama National League beating Bromley 2-1 - it's their first season since promotion and they've certainly found it very hard going.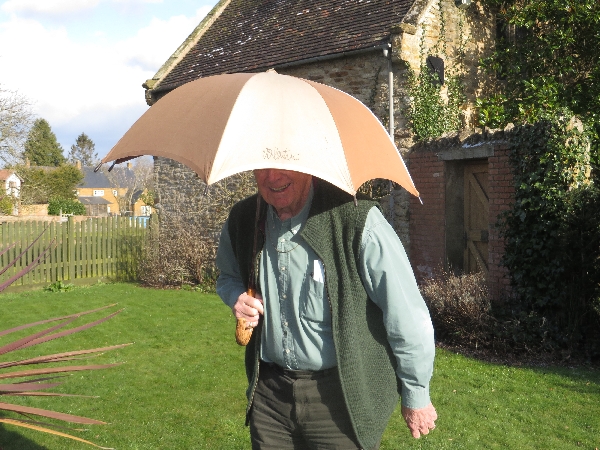 Published Date: February 10th 2021