Leviticus 263/84: Bere agriculture perhaps?
South African research suggests its Covid 19 variant might cause problems! Well Yes, it was always going to happen and President Macron will no doubt claim great foresight but let's be precise … a sample of 2000 in South Africa has shown the Oxford/AstraZeneca vaccine is less effective for those contracting their localised variant of the virus. The actions have already been taken to prohibit inward travel to the UK and to Test & Trace the 140+ who are known to have contracted it so far here. Oxford's research team is tweaking its vaccine to respond to that and other variants that have emerged. This finding just a week after the AstraZeneca vaccine was shown to reduce transmission, hospitalisation and morbidity is potentially disruptive. It called for and got a PR offensive [led today by Boris Johnston] to keep the vaccination programme rolling. Currently it's headed to make 15 million first jabs by February 15th ….. as promised.
Will we grow bere this year on the battlefield? It depends on the success of a tender for Ł10,001 that is planned. Jim Meikle, our local farming collaborator, is ready to give it a shot but thinks as well as barley we should be growing good revenue crops like potatoes. Bere is a medieval barley that John Home-Robertson has pioneered at Paxton because the names of both Berwick North and South [on-Tweed] reflect it [bere-wic means Bere Farm.]
It's thought to have been brought by the Vikings, perhaps even Prestonpans' fabled Aldhammer. It's a landrace with a short growing season in long hours of daylight. It is sown in the spring and harvested in the summer. Because of its very rapid growth rate it is sown late but is often the first crop to be harvested. The Trust's commitment to agriculture on the battlefield is because that was its use in 1745 and the battle took place after the harvest had been taken in. The opportunity will be taken with this initiative to engage with local schools and youth groups including at harvest time and seek to undertake traditional 18th century harvesting with the creation of stooks and a significant celebration of Lůnastal / Fčis Foghair/ Harvest Festival. In 18th century Lothian rival groups of young men seemingly constructed towers of sods topped with their flag and at Lůnastal they met each other in battle. Sounds fun!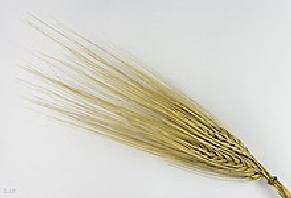 Prince's Gate from Bellway Homes is advertised! First news from Blindwells. Their website reads: This collection of 3, 4 and 5-bedrooms homes ..... forms part of an innovative new residential community in a sought-after rural setting, just a short drive from Edinburgh. Prince's Gate will benefit from a purpose-built town centre as well as an impressive range of retail and leisure opportunities in the close surrounding area. With highly-regarded local schooling and excellent commuter links to Edinburgh and beyond this development offers a unique opportunity to be part of an exclusive and self-contained new town. There you have it. Prince's Gate. Now we have a considerable amount of work to do on the street names … Community Councils, ELC itself and Bellways … Iain Slater has put us in touch with Lynn Pringle, Sales Director, so we need to make contact there asap.
Even date saw Mary Queen of Scots beheaded at Fotheringhay Castle in 1587 aged 44. She was 'convicted' of plotting to assassinate Elizabeth I in the Babington Plot. It was also the date in 1672 on which Isaac Newton reads his first Opticks paper before Royal Society in London. His completed work became a vade mecum of the experimenter's art, displaying in many examples how to use observation to propose factual generalisations about the physical world and then exclude competing explanations by specific experimental tests. Newton's work stood the test of time but was Mary guilty? She was heir to Queen Elizabeth I's throne so had much to gain although her hapless experiences as Queen of France and of Scotland can hardly have endeared her to the role. The castle was built by the Norman Earl of Northampton but over the centuries owned by the Kings of Scotland as marriage gifts and given as such by Henry VIII to Catherine of Aragon who did much restoration. Although it was allowed to fall into ruin by the River Nene it was the birthplace of Richard III as well as the site of Queen Mary's execution in the Great Hall - both these details are recorded on plaques. Mary's remains were taken first to Peterborough Cathedral and then to Westminster Abbey by her son James VI and I when he succeeded Elizabeth to all three thrones; Richard III was lost from the original location of Grey Friars Chapel but discovered with no dignity beneath a car park in 2013 and after confirmatory DNA testing moved to rest at last in Leicester Cathedral in 2015.


Published Date: February 8th 2021