Leviticus 259/84: Home Made Soup Day ... and Thank a Carrier ...
Happy with both those celebrations! Only bad news is that cardboard is getting in short supply, unsurprisingly, but you can't blame the carrier. It's the extravagance of the Amazonian suppliers of today's world. As chance would have it we received two deliveries from amazon.co.uk from the same delivery and they are pictured below. The most ludicrous was the Black Ink Cartridge but the Kitchen Covers were as extreme. Maybe, driven by shortages of sizes they are using the nearest to hand but whatever the reason the waste is all too apparent! Of all the deliveries we receive Judith bringing the Daily Telegraph each morning before 6.15am takes top slot followed by The Man from Hermes and then close behind Royal Mail's Postie - all as courteous as you could wish.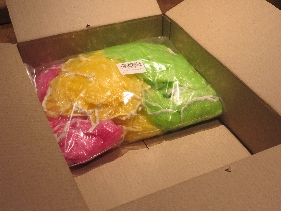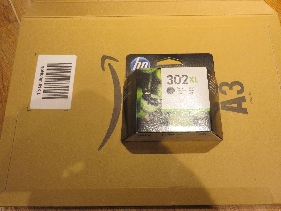 It's timely to reflect on Black Ink supplies … they've gone to up to two week delivery at 25% higher prices whereas colour comes though next day. Must be greater demand? We're quite virtuous about reusing cardboard packages especially for mailing out our own books …. and if there are plastic wraps as often on clothing they end up as inhouse bin liners.
Talking of books … a fine highlight today was Sylvia's Click & Collect from our log shed of a case bound copy of the Official Guide to the Scottish Diaspora Tapestry [2015]. It's a beautiful binding, and content, which we made especially for all our stitchers around the world. It cost as much to ship as to print but was greatly appreciated - and that was after we checked and double check the paperweights to get within a Royal Mail trigger threshold. We even heavily trimmed the pages to make certain. Sylvia was passing by to get her windscreen fixed downtown; not done that since colleague Tony Gillingham lost his en route back from Scotland around about Durham ten years ago. Our last loss was as we drove across the Prairies from Winnipeg to Edmonton during the Tapestry exhibition in Manitoba late June 2016. It was an Avis hire and they simply swopped cars in Edmonton and charged us $Cdn 200!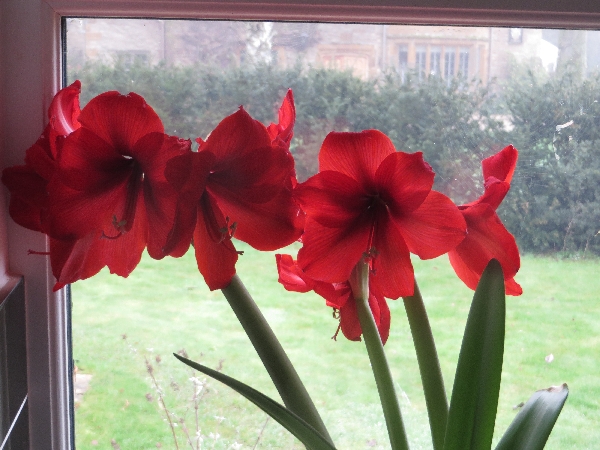 Pamela's home again .. and after four calls/ messages to her she called us. Happier in Oakham than Peterborough Hospital …. she gave us a Canna for Christmas which is now magnificently flowering on our kitchen window sill. It's enjoying the steam from the Quooker no doubt!
Cannas are not true lilies, but have been assigned to the order Zingiberales in the monocot clade Commelinids, together with their closest relatives the gingers, spiral gingers, bananas, arrowroots, heliconias, and birds of paradise! The plants have large foliage so horticulturists have developed selected forms as large-flowered garden plants. Cannas are also used in agriculture as a source of starch for human and animal consumption. Although tropical plants most cultivars have been developed in temperate climates and are easy to grow as long as they receive at least 6–8 hours average sunlight during the summer and are kept in a warm location for the winter.
Home Made Soup then … The word went out that something remarkable is called for so here's the outcome. Mathew suggested Baked Bean Soup in honour of Grandpa Reg Turner for Ilkley … that was second to Heinz Tomato Soup. What he might have enjoyed is Porter's Roast Tomato and Lentil Soup from Silverstone as shown below right! [Congratulations Tony & Sylvia.] Too much snow affecting them up there in Ilkley it seems … Avril's preparation brought out the silver soup ladle and the Korean Tureen as well as the Lion's Soup Bowls to contain Home Made Leek and Potato; delicious. At the Manor House, alerted yestereve, Lady Dolphinstoun crafted Thai Red Curry Squash and Lentil Soup which the grandsons found not to their liking but the Baron clearly enjoyed greatly.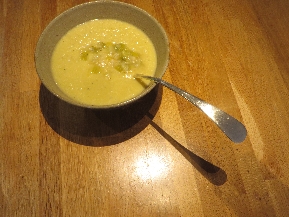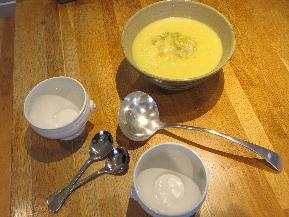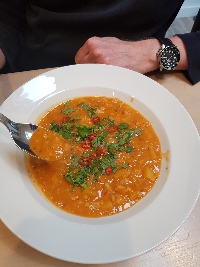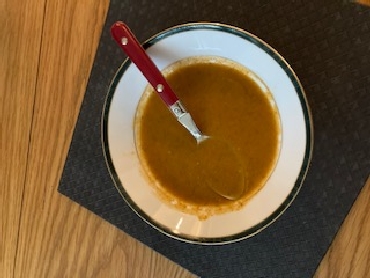 ________________________________________________________________



Published Date: February 4th 2021