Leviticus 258/84: Julian can't clean his own car anymore?
True; great deal of commotion outside the Dovecote window! The Big House has twice now invited in a contractor to clean the car. And what exactly do the two grandchildren do? I suppose playing the saxophone could be an excuse? I'm a hypocrite of course since I normally go to a Bulgarian crew at Grange Park but there's not much need with virtually no tripping taking place.
Snowing again in Ilkley! Amongst all the good news of vaccines we've tended to overlook that it's been the wettest January since 2013. Here in Milton we spend much time gazing south west towards Weymouth, checking when we can make our next journey there; and its weather. Gill's home at #1 Somerset House is up for sale following her transfer to a Nursing Home and the asking price is £600,000 - that's up over the decade from £445,000. There's word out that seaside resorts 'might' have a last chance to regenerate with Staycations likely to be the only holidays on offer in 2021. But they'll need investment before the visitors arrive if they are to sustain their attraction. Weymouth's in with a good chance; it never truly succumbed like many did. Back to vaccines … we're past the 10m jabs in the UK now and still embarrassingly ahead of the EU; Nicola Sturgeon is seeking to distract attention from Scotland's slow progress by postulating that a goodly group of children can get back to school before England - where our infection rate is considerably higher although falling fast. The EU's crass call on Article 16 of the Northern Ireland Brexit Protocols has opened Pandora's Box there with all manner of good notions of how the initiative is now our's to make considerable improvements to how it's working as trade crosses the Irish Sea. Here's hoping … certainly the spotlight is no longer on Dover and the Channel Tunnel.
Back reading Mavis Cheek. She's challenged herself with telling the truth all the time and begins by telling her husband she doesn't wish to go on the Corporate Jolly to Florida yet again. He's ashamed to admit she wont and ends up telling friends and the boss that she's got an ear infection and can't fly. She has to lie about that …..
Reading the meters here ..but no can do in Weymouth! For the record then they read 14911/ 21151 m3 …. That was one of the highlights but of course the real highlight was a Boiled Egg for breakfast; cold water to the boil, no using Quooker or it might crack the shell; once boiling turn the timer over to get the appropriate 2 minutes 30 seconds; place in cup and crack the head - no need to execute King Charles I style. It was the order of the day because Waitrose Click & Collect had included one outsized large in the box of six which was in all likelihood going to get crushed sooner than later. It was superb taken with table salt and a freshly toasted roll - no soldiers available.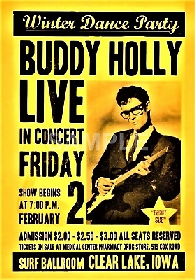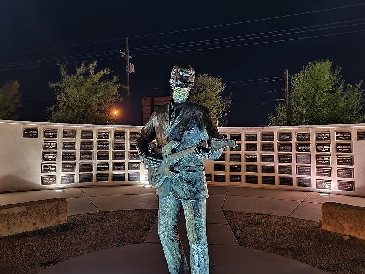 It's the Day the Music Died. On even date in 1959 we learnt of the unfortunate and untimely death of singers 22-year-old Buddy Holly, 17-year-old Richie Valens and 28-year-old J. P. Richardson "The Big Bopper." They died in an airplane accident near Clear Lake, Iowa along with their pilot Roger Peterson. 'The Day the Music Died' was dubbed in Don McLean's song American Pie below. Buddy Holly's band had just played at the Surf Ballroom in Clear Lake and were headed to their next destination in Moorhead, Minnesota. For this leg they decided to charter a plane rather than go with their tour bus. Richardson had swapped places with Waylon Jennings to fly Tommy Allsup had lost his place to Ritchie Valens on the toss of a coin. They did not reach their destination and the aircraft wreckage was found next day less than 6 miles northwest of the airport in a cornfield. Poor weather conditions and pilot error were determined to have been the cause.

…. A long, long time ago
I can still remember how that music
Used to make me smile
And I knew if I had my chance
That I could make those people dance
And maybe they'd be happy for a while

But February made me shiver
With every paper I'd deliver
Bad news on the doorstep
I couldn't take one more step
I can't remember if I cried
When I read about his widowed bride
Something touched me deep inside
The day the music died ….

The Buddy Holly Museum and Centre is in Lubbock, Texas, his home town. His widow, who was six months pregnant at his death and miscarried resolved to stay out of any limelight. His statue in Lubbock is well dressed for today's pandemic.
Published Date: February 3rd 2021