Leviticus 255/84: Monomaniacs proffering never'endum captations ... and Guy Fawkes
Scotland's First Minister that is …. Any political party that's been in office, as the Scottish Nationalists have been north of the Border since 2007 when Alex Salmon formed a Minority Government until the present day, is destined to have a litany of failures which Opposition parties would expect to highlight and campaign to rectify when they win. Fresh elections to the Holyrood Parliament are scheduled for May this year but polling suggests the Opposition parties are flagging and present First Minister Nicola Sturgeon can expect to gain an overall majority. She is currently in a minority with 61/130 MSPs but supported by 5 Greens. The parliament is elected by proportional representation and the major Opposition parties are Conservatives 30 and Labour 23. Liberal Democrats, who until 2007 had governed in coalition with Labour, have collapsed as has Labour, and now hold just 5 seats. The Holyrood Conservative Opposition is led until May by Ruth Davidson, former Leader of the Party in Scotland, when she will be translated to the House of Lords; Douglas Ross, current Leader and a Westminster MP plans then to return to Holyrood. The political narrative is that the SNP has been able to hold office for 14 years because of it monomaniacal focus of seeking Independence for Scotland.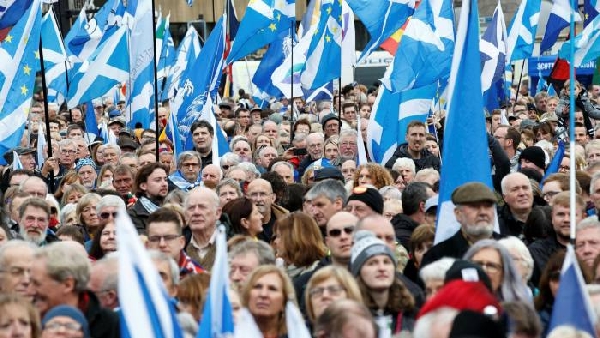 Nationwide support grew even after Alex Salmon lost the Referendum in 2014 as the UK at large voted for Brexit but Scotland certainly did not. It is also the narrative that Nicola Sturgeon's leadership style has been more widely respected during the pandemic than that of Boris Johnston. Most significantly the political rhetoric of the SNP consistently derides and/or blames the UK Government and studiously refrains from acknowledging the disproportionate financial support Scotland receives under the Barnet Formula from London and the SE of England. Nor does the SNP have any intention of honouring its pledge at the Independence Referendum in 2014 that it would take place 'once in a lifetime'. It captatiuosly belittled the recent visits of both the Duke & Duchess of Cambridge and Boris Johnston as not essential.
Failures by SNP Government that Opposition should deliberately address. So long as the political narrative remains focussed on holding a 2nd Referendum which is deliberately and disproportionately encouraged by the BBC, it is difficult for Boris Johnston or local Scottish Opposition parties to be heard let alone their manifestos considered. And apart from the tenure of Ruth Davidson no media/ noteworthy opposition leaders have yet arisen who can change the narrative. The SNP's present failures are readily apparent e.g. missed targets for 95 per cent A&E patients to be attended to within four hours. The gap in premature mortality rates between deprived and affluent areas has increased to its highest point since 2008. Scotland has the highest drug death rate in the EU. Students from south of the Border have a better chance of being offered a university place in Scotland than those based in Scotland because of the SNP's approach to student funding. Police stations in the controversially unified Police Scotland are crumbling across the country. The number of children in homeless households has risen by 6% leaving over seven thousand living in temporary accommodation. The gap between the Scottish employment rate and that of the UK has reached 2% for the first time in nearly two decades. The SNP has cut council budgets by seven per cent in real terms between 2013/2014 and 2019/2020 yet there has only been a 2 per cent cut in Scottish Government funding over the same period. The SNP is expected to fall dramatically short of its target to improve education generally and in the country's deprived schools in particular. Despite these challenges the SNP allocates its media time and resources to challenging the constitutional basis of devolution and now vociferously seeks to arrange its own ultra vires Independence Referendum some time soon. It is abundantly clear that unless Opposition parties can get to create these alternative narratives the SNP's capitatious momentum will continue to sully UK politics as Boris Johnston's Union Government seeks to make the most of the opportunities Brexit affords - not least for the fishing industry in Scotland but also for international trade.
… and so in direct contrast …. … it was good to heed Dolina Maclennan's advice and tune into BBC Alba at 9pm tonight. It's not listed hereabouts for our tv but Avril readily found it on her laptop! Dolina, our new Gaelic Trustee for the Battle Trust, plays the 'old' Kay Matheson to the film An Ceasnachadh. It relates, beautifully in Gaelic with sub-titles, the Quizzing/ Interrogation of Kay for her role in retrieving the Stone of Destiny from Westminster Abbey in 1950. Her dignity throughout and the messages conveyed made her an enduring national heroine; and the strongest testament for the Gaelic language and song. The traditional site of the crowning of Scotland's Kings at Scone Abbey, it was taken to England by conquering King Edward I. Kay and the three men involved were never prosecuted and the Stone, which had been broken during its removal was never found by officials; but, repaired it was then quietly returned to Arbroath Abbey draped in the Saltire from where it made its way back to Westminster. In 1996 HM The Queen authorised its return to Scotland on St Andrew's Day where it now rests with the Crown Jewels in Edinburgh Castle. There is seemingly an agreement that it will be returned for use at future Coronations in Westminster.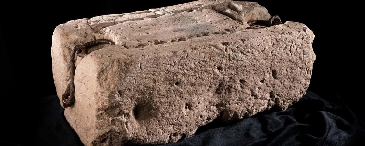 Guy Fawkes was never hanged. His co-conspirators were but on even date, January 31st, in 1606 he jumped/ fell as he climbed his scaffold and killed himself as his neck broke. His ambition had been to assassinate King James VI and I and restore a Catholic monarch to the then separate Scottish and English thrones by blowing up the Houses of Parliament in November 1605. His grandson James VII and II was overthrown by the English Parliament in 1688 after his conversion to Catholicism and the birth of his son James that year to Mary, his second and Catholic wife. It was his flight to France in 1688 which began the Jacobite campaigns for a Stuart Restoration as in 1660 only finally ending after Bonnie Prince Charlie accepted defeat by the Electors of Hanover.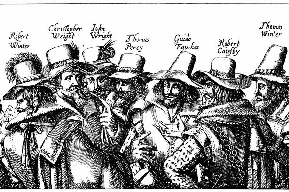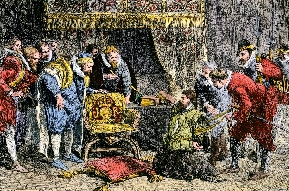 Published Date: January 31st 2021