Leviticus 253/84: Coffee of course, ZOOM and Waitrose .. busy ...
Yes, Spring is here ... Primroses a plenty and snow drops in abundance … although here below we just show some early flowers. A walk around the village to pay our vouchers in for the Daily Telegraph at the village shop encountered Anthony and Martine Lunch who'd had their jabs. Martine is Belgian so we were able to thank her nation for making the first Pfizer jabs for us all to receive at Grange Park Surgery.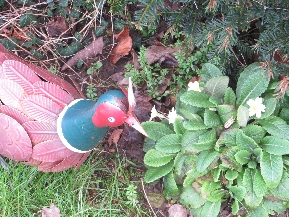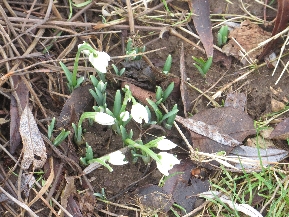 Avril's Friday Coffee Invitation. She'd checked the weather forecast which was good for 11.30am, sun shining for a good hour, and that coincided with Elliot having a saxophone lesson online [his recent so far unseen shearing hair cut was immediately noticed by Teach]; and Henry reading The Life of Pi - they'd all just watched the movie so it was an enjoyable schooling session for him. He'd been out running and was opting for PE as one of his GCSE O levels now he's getting to choose as well as Spanish but not French at which he is apparently very good. Having done it all the way to A levels and FUE at Reading I concurred that if he was good already he'd fly if/when he needed to enhance and enjoy it all. Wellingborough are putting on very impressive online learning structures but as is reportedly commonplace, kids are bored at not being out and about mixing with friends. Good news for Laura's Dietary Advice Service - she's just booked another online client.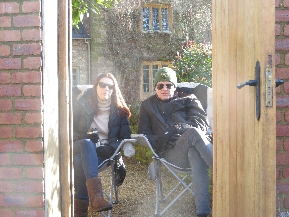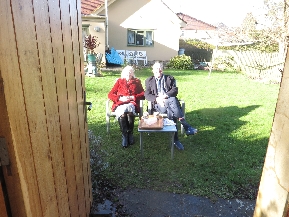 The pictures as expected show the maintenance of social distancing through the doorway but you need to look closely to see the Buck Wheat Muffins which Avril had cooked especially for the occasion as part recompense for the Dorset Apple Cake and Bakewell Tart lately delivered to us. They were great and Toby spent most if his time trying to get at them - our low table was no defence. Jules and I both reminisced about favourite buck wheat Aunt Jemima's pancakes in Canada …. Aunt Jemima is a brand for pancake ready-mix, maple syrup and more since 1889 - the original recipe [shown] used corn flour. By 1915 it had become one of the most recognized brands in US history.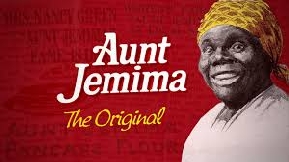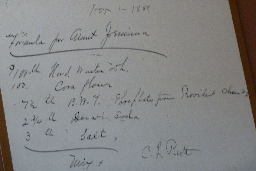 Nancy Green, formerly enslaved, portrayed Aunt Jemima at the 1893 World's Columbian Exposition in Chicago, one of the first Black corporate models in the United States. The character was based on the Mammy archetype and off and on since its debut has been criticized as an example of exploited African American women. Aunt Jemima is sometimes used as a female version of the derogatory epithet Uncle Tom so, unsurprisingly, today's owners Quaker Oats, a subsidiary of PepsiCo, announced in June 2020 that Aunt Jemima ran scared; she is retired "to make progress toward racial equality." She was never perceived as derogatory to our family, on the contrary we've always believed it an excellent traditional brand. Not a hint of microaggression.... anyway, I have to confess we had Fish for supper; Basa in Tempura light batter Japanese style with accompanying stir fried new potatoes, courgettes, sugar snap peas and French green beans. Excellent. Avril had a 0% white wine and, myself, the Sémillon Sauvignon Blanc from Western Australia.
ZOOM brought good news for Blindwells…. …. because Iain Slater, CEO there for Hargreaves, had at last been able to give us a revised 'red box' area where the Centre is going to be built and opened in 2027 i.e. just as soon as we get the funding together. Gareth is all set to enshrine our red box claim and have a shot at some visuals including the Tower Viewing Point looking N/NW across the battlefield. We also talked street names and statue location … and Joe Goldblatt gave us all a new word -charrette. It's like a maquette/ bozzetto, but you take your ideas for the designs and dynamics within the planned Centre and get other knowledgeable folk to comment/ critique. Great notion if only we'd known that's what it means. M Jourdain revisits after a couple of days! Yes, we've been doing it and checking out other locations including Arran's NLHF reconnaissance in the External Audit Resilience Project. Its origins? It was used at L'École des Beaux-Arts in Paris and is French for the chariot/ cart which was wheeled around at the end of assigned design projects to collect their models/ maquettes from all students. Their relative merits were then debated publicly. It's frequently used at the outset of projects to describe a brain storming session to generate options but in our context here we see it as a reality check on our best endeavours with yes, the opportunity to accommodate fresh suggestions.
Jacket and tie ridicule … My appearance on ZOOM in a jacket and Maserati tie was a carry over from our Friday morning coffee of course but all other colleagues were raggedly dressed. When quizzed I suggested it was for my excursion later to Waitrose for Click & Collect. There was considerable surprise in Scotland that one should dress for such an occasion … but I had abundant cognitive consonance on 30th when the Daily Telegraph's Sherelle Jacobs quoted numerous opportunities to smarten up to get out and enjoy lockdown - an hour at a laundrette or a trip to the dentist were essential explanations for going out!

Published Date: January 29th 2021