Leviticus 244/84: Joe's in charge then .... and Barker Langham Rides Again!
Joe Biden makes President and Storm Christoph wreaks havoc. Big day for the BBC's 'told you so' journalists as The Donald flies off to his golf course home in Florida to the strains of I Did It My Way! leaving Joe Biden to get everyone vaccinated and to deal with the ambitious Vice President he chose. BBC and ITV both already campaigning for her to be the next President lauding her racial origins to boot whilst condemning all who talk race! Where's Martin Luther King's Dream of a Rainbow Nation gone? Let's all hope Joe learnt well from the eight balmy yet hopeless years he was VP to Barak Obama and decides to borrow a few leaves from Trump's play book; it seems he's taking over the Donald's Facebook/ Twitter addresses which have been reopened! Avril's looking Presidential surely and surprisingly the rainbow's here in Milton Malsor …. with the western end over our local Compass [closed] Inn. It lost its bearings despite its name a decade or more ago. But this week it's significant with adventurous social media talk about re-opening on a community basis …. crock of gold? I doubt that very much. I've advised investor buy-in from the community with modest shop [croissants perhaps?] and a minimalistic post office service.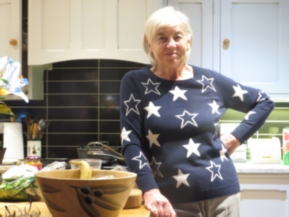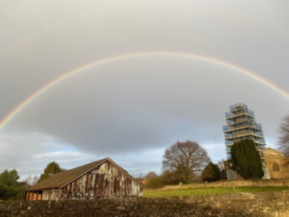 Mathew reported flooding in't Yorkshire and our garden chair on the front porch was swept over in the predicted fierce winds overnight. Christoph seems to make it an Irish storm … they've been claiming joint naming rights since it all started up a couple of years ago if the weather system comes in from the Atlantic to the Emerald Isle first, which it very often does. Evidently the Met Office and Irish Met Eireann decided to begin naming storms after a survey revealed people became more aware of extreme weather warnings once the storm was given a name. The next one to watch for is evidently going to be called Darcy! Safely indoors the rainbow lilies cast their own shadows …..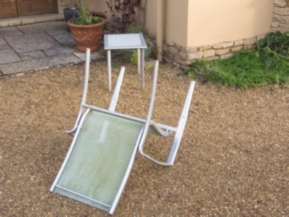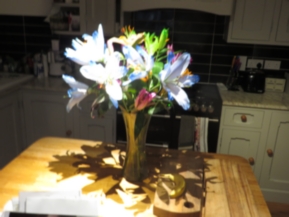 Time to fill forms for the NLHF. We've spent the first £45,000 in 2020 of the £95,100 Grant the National Lottery Heritage Fund gave us to commemorate the 275th Anniversary of the Battle. Now it's time to proceed to Part 2 during 2021 having spent 2020 almost exclusively online/ streaming. We're confidently expecting face to face events are going to start to reappear from Easter onwards and we'll have the double benefit from the whole fraught episode of both digital and physical commemorations. We're going to keep the digital capture and outreach going into the future regardless …. With a fair wind the first event will be in Inverurie where the Prestonpans Tapestry is due to be displayed and their own Jacobite Victory in December 1745 commemorated. To claim for Tranche 2 of the funding Sylvia's been doing the heavy lifting since they ask for all the invoices and budget variance analyses.
Let's Go to a Meeting … with BarkerLangham. We are back in touch now with Darren Barker and his team members Liz and Beth who are mandated to update in a 3rd Edition the picture-book timeline of the Trust since 2006, with a draft by February's Trustees' e-meeting. It was Darren's team that secured the £100K Viridor Grant for the Bankton Doo'cot and helped greatly although we failed with the BathHouse Project at Prestongrange Museum. If that 3rd Edition goes well we'll want help finding support for Prestonpans Town Hall and the 5 year Interregnum as well as Fund Raisers and Designers for the Centre itself in 2027. Their not ZOOM but alternative Let's Go to a Meeting technology worked well … new one to me.
Burns' Night plans taking shape. Mathew's official invitation to ZOOM twice on Monday next January 25th for Toasts first at 7.30pm then after Haggis from 8.30pm poetry recitations has been accepted; all is taking shape with designated reciters placing claims … it'll be fun but I've not heard back from Henry yet on his potential rendition of the Address to The Haggis ….




Published Date: January 20th 2021