Leviticus 242/84: Blue Monday .... and Dress Codes!
Housework day and jab date arrived! We've had Avril answering the phone in hope it's news of her jab date and PM it came through for Thursday 21st @ 2.50pm. … and Boris has announced he's moving to the over 70s now. The GP's Facebook last week had dispiritingly suggested they'd be 'sweeping up those they missed' when they got some more vaccine! Meanwhile it's lots of laundry, and a good clean for the shower, dishwasher, oven and more! McGonagall* has been lurking too … Mathew's keen on reciting for Burns' Night my mother's favourite Tay Bridge Disaster. I started with Hot Cross Bun for breakfast followed by Kipper, toasted Fitzgerald bagel and Scottish three fruits marmalade for lunch; supper's Monday expectation was cold pork and mashed potato but I got a telecon asking if I'd prefer pork & beans … Yes!
*Had no notion that one Minerva McGonagall is a fictitious JK Rowling Professor at Hogwarts School for Witchcraft and Wizardry ….
All this going along on Blue Monday. The third Monday in January according to its originator in 2005 who issued a Press Release at the time when he was a tutor at the Centre for Lifelong Learning, an FE centre attached to Cardiff University. Guardian columnist Ben Goldacre reported that it was delivered substantially pre-written to several academics by agency Porter Novelli who offered them a fee to put their names to it. A statement from Cardiff University was quickly offered: "Cliff Arnall … was a former part-time tutor at the University but left in February." Arnall himself now actually campaigns against the concept of Blue Monday via Twitter. Variations of the story have been repeatedly reused by other companies in press releases, with 2014 seeing Blue Monday invoked by legal firms and retailers of bottled water and alcoholic drinks. Some versions of the story purport to analyse trends in social media posts to calculate the date. In 2018, Arnall told The Independent that it was "never his intention to make the day sound negative but rather "to inspire people to take action and make bold life decisions". It was also reported that he was working with Virgin Atlantic and Virgin Holidays having "made it his mission to challenge some of the negative news associated with January and to debunk the melancholic mind-set of Blue Monday. So there it is ….Blue Monday is potentially the most depressing day of the new year BUT …. now we know its potential be sure to take steps to transform our lives …. The Scotsman today published 10 uplifting notions including planning your Burns' Night [which Mathew as 15th Baron of Prestoungrange, and Lady Prestoungrange, certainly have in hand!] but …..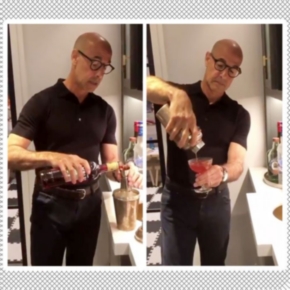 Jane Shilling is back on form too! As will be known, I'm in her fan club and this Blue Monday she has not disappointed. "Put a shirt and tie on, it's time to commute to your desk." But why, Jane? [top left] Because …. and this is vintage Jane: "One of the most troubling effects of the lockdown is the way it has flattened the rhythms of life, creating a monochrome timescape of undifferentiated days. To this dreary vista, the transformative power of clothes offers a remedy - farewell to office dress code, hail to its home office update … getting dressed for work feels like a necessary metamorphosis: one that makes me feel ready in Tucci's words to make something new happen. [So who is Stanley Tucci [pictured right without tie holding Campari - that's good!] who spoke thus? He's an actor, famed for a viral YouTube hit on making a negroni who, when lately interviewed for the Daily Telegraph lamented the loss of what he called his father's style which had made an indelible impression on him as a child: "Even if it's a simple suit, you're transforming to make something new happen." ] ….and the negroni? Put ice and a double shot of gin in the cocktail shaker followed by a shot of sweet vermouth and toss in a single shot of Campari. All ingredients are shaken and poured into a coupe glass garnished with a thin slice of orange and a drizzle of juice. That's it!
P.S. Jane's written two memoirs I discover today, in 2005 and 2012 … so I've just ordered both on Amazon ….
Roget who 'invented' the Thesaurus was born this day in 1779! Peter Mark Roget was born in Soho. After his father's death the family moved to Edinburgh, in 1793, and he shortly began to study medicine at the University of Edinburgh, graduating in 1798. Not making a quick start to a medical career in 1802 he took a position as Tutor to the sons of John Leigh Philips with whom he began a Grand Tour during the Peace of Amiens but, when the Peace abruptly ended, he was detained as a prisoner in Geneva although he was able to bring his pupils back to England in late 1803. Roget retired from professional life in 1840 and by 1846 was working on the book that forever will perpetuate his memory today. It has been claimed that Roget struggled with depression for most of his life, and that the Thesaurus arose partly from an effort to battle it. A biographer asserts that his obsession with list-making as a coping mechanism was well established by the time Roget was eight years old. As early as 1805 he began to maintain a notebook classification scheme for words organized by meaning. During this period he had moved to Manchester where he became the first Secretary of the newly established Portico Library and it is there that he is thought to have begun to craft his Thesaurus. It was more than 40 years later that catalogue of words was first printed in 1852 titled Thesaurus of English Words and Phrases Classified and Arranged so as to Facilitate the Expression of Ideas and Assist in Literary Composition. During Roget's lifetime the work reached twenty-eight printings and after his death, aged 90, it was revised and expanded by his son, John Lewis Roget, and later again by his grandson Samuel Romilly Roget.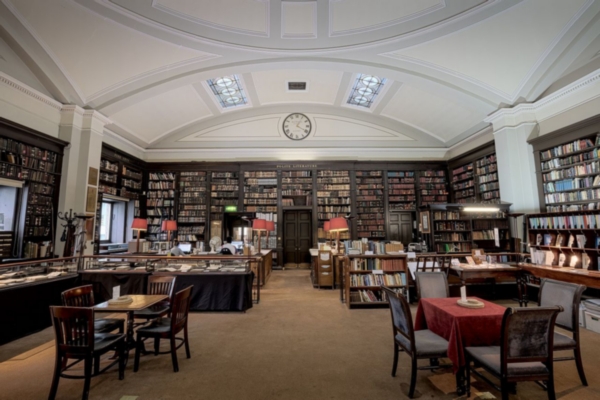 The Main Room of the Portico Library.





Published Date: January 18th 2021