Leviticus 239/84: Coffee, chocolate chip cookies and fish supper!
One kind deed … and the reciprocal! We didn't expect our Delivery from the Big House today of two home made, by Elliot Yr of Lochnaw, chocolate chip cookies; but we got then. Our own contribution of contraband M&Ms last week can't have been the trigger. No, they're on lockdown and Domestic Science classes seemingly involve cooking. We'd also taken coffee together [Avril Brexit leaf tea] at 11.30 as usual and I'd had the opportunity to go to Tesco's to collect my prescriptions, and diced onions and Voltarol. Most efficient: in and out in 20 minutes. I came home with some coloured tulips, methought, which Avril quickly identified as Lilies as pictured before they blossom out - that picture comes later.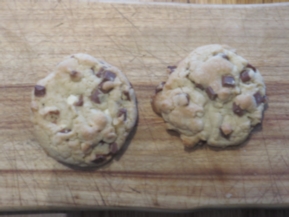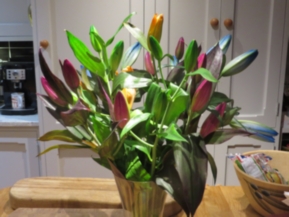 Media attention good today. The Press Release in English and Gaelic for Dolina's co-option as our Gaelic Trustee caught the attention of History Scotland who picked it up and arranged a 5 minute ZOOM interview for Arran shortly. The East Lothian Courier carried the letter I penned last week, prominently boxed, arguing that at Bindwells the battle can heighten the new community's sense of place not least through the proposal for a statue of Prince Charles.
Minutes and Action Lines from the 118th Trustees' Meeting using ZOOM. With Martha Bryce's Prospectus now completed and tabled with the NLHF and Arran's Programme for 2021 formally set out within anticipated pandemic parameters we're ready to roll on several fronts - not least the putative Jacobite Trail. Here the thought is to initiate a website linking all willing members and offering suggested Tracks within the comprehensive Trail. Further out the plans are of course for Cross Marketing and Omnibus Exhibitions - both digitally and physically as at NMS Edinburgh three years back. Closer to immediate actions are the Lease for Prestonpans Town Hall and applications for grant support to kit it out and a deadline of February 24th for going firm at Blindwells and with initial visuals.
Friday night is of course fish night. Avril has let it be known to any who'll listen that I suggested we try a delicacy we could not remember from George's Paragon either at Surfers or Sanctuary Cove in Queensland. It's widely associated with a well established tv character Captain Birds Eye for whom sister-in-law Pamela worked in Walton-on-Thames as a Fish Buyer. We didn't know until we inspected the package with care that it was a fish called Pollock. It is presented in oblong shapes widely known as Fingers. Portion control allocated four such shapes each as the photograph below shows. Avril recommends a substantial helping of Tomato Ketch Up as is visible on her dinner after application. Unfortunately Tesco's Click & Collect had not delivered the internationally acclaimed Heinz Ketchup but their own somewhat differently spiced flavour. The four oblongs were accompanied by potato chips and two green vegetables, spinach and broccoli. The Piedmont dry white wine from the Gavi community was served preceded by a 0 per cent Martini and Tonic with a slice of lemon. It was not a memorable occasion because it was difficult to taste the fish which the package indeed reassured us was present. Although the encasing bread crumbs were not gluten free Avril did nevertheless persist and consume, as did I, all that was set out on our Samsara dinner plate. Dessert was a delightful ice cream from Häagen-Dazs. Altogether however it was an epicly unmemorable, preferably forgettable, fish supper and it must be formally recorded here that the finest serving of the day was Elliot's chocolate chip cookies. The container in which they were delivered was returned to the Big House with an earnest request for a refill at the earliest opportunity. We wondered later whether the oblongs were always Pollock, back in the days when Pamela laboured for their supplies; was it never Cod?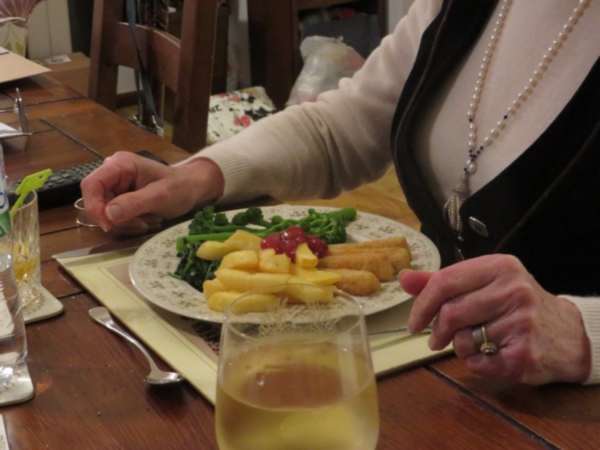 Published Date: January 15th 2021