Leviticus 238/84: ZOOMing but dream of travel
ZOOM for Battle Trust and Dolina Maclennan. It's our first meeting of the New Year and for Dolina who's joined us to help achieve what we are promising for the Gaelic in East Lothian. She's one of Scotland's best know Gaelic scholars as well as singer, actress and broadcaster. It was Trustee Joe Goldlatt who knows her well via the SNP that managed the introductions. She'll be helping Beathag Mhoireasdan whom we've worked with all along. Now the county has formally adopted its 5 Year Gaelic Language Plan we are in a good position to sustain the contributions we've been making with signage and translations. The big challenges are the three Cultural Workshops at the John Gray Centre Exhibition in the summer and the language interpretation of the exhibition itself. Keen to get as many as possible from the county engaged too. Dolina had lots of useful suggestions including an exciting live concert of music/ song, poetry and narration along the Prince's route. After the ZOOM we're now all set to give our Progress Report officially to NLHF and ask for the second tranche of their grant for the 275th Commemorations. There was plenty on the balance of the AGENDA from 3.30pm and then we needed to get to Tesco for Click & Collect before 6pm as well j-I-t.
And we're still awaiting Avril's time slot for her first shot vaccination ….. which has been promised for the over 75s; and we logged on our GP's Facebook. Seems they've not got any left and we evidently missed two phone calls with her chance earlier yesterday … that's a mystery but there you go! Now we're awaiting more stocks ….
Snow again in Ilkley … … they have all the luck, although Kathryn's early morning escapade to try and get to her school at first seemed doomed but she made it with front wheel drive! Best Mathew could offer was that he and Francesca were going sledging? Well, we got a snowman built outside Maureen's apartment and they must have walked because we got views of Ilkley from the Moor …. Anne from Edmonton wrote that it was snowing there too and it looked pretty though she hated to admit it. Alas our two grandsons in the Big House haven't had so much as a hint of snow ball or a taboggan yet. Life's not fair!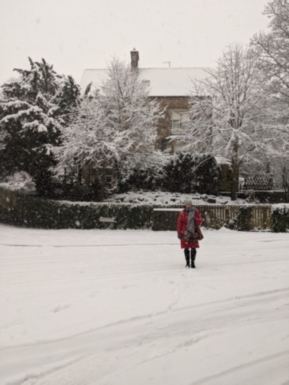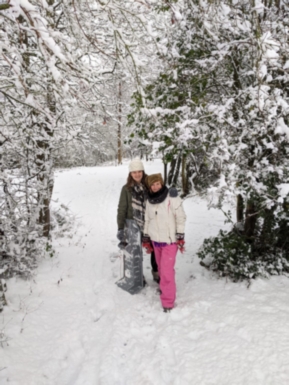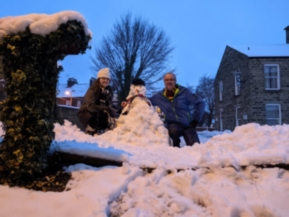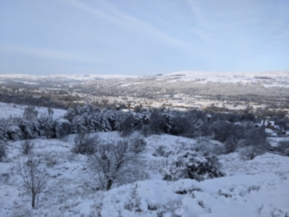 It was National 'Shop for Travel' Day on Tuesday ….. … which we'd overlooked; so here's some catch up. It's scheduled for the second Tuesday each January i.e. 12.01.21. There's no doubt the travel companies and airlines can't wait to get back into action as soon as the pandemic restrictions begin to relax by Easter. Not yet convinced Avril and I feel the need to get much farther than Weymouth and Scotland but Ontario beckons for October when the Diaspora Tapestry's 37 panels are set to travel to Chatham-Kent for 3 weeks on display. That's where a group of stitchers decided they would just create a panel anyway of their Selkirk Settlement in 1804. It's a beautifully stitched panel and we've dubbed it CA38 - there's no actual CA37 but the Canadian panels already include CA33A as an extra telling of Campbell of the Yukon! Will there be a way to combine that with meeting Bryan and Joan and Anne we wonder; wont be easy? The cruise ships in Weymouth Bay are all merrily offering voyages for autumn 2021,2022 and beyond. No doubt Julian and Laura will be exploring Mallorca again and their dream of buying a vacation home down there. Kathryn, our hard working Primary School Deputy Head, is the one who'll really need the break.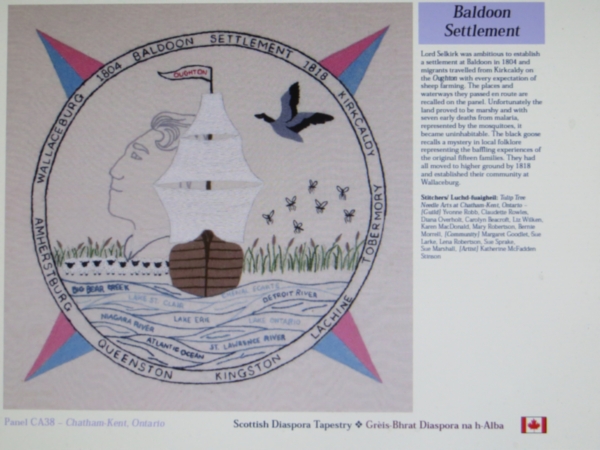 Ah! there was a toboggan ….!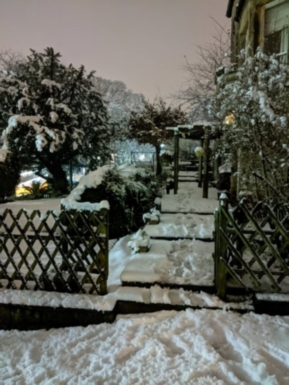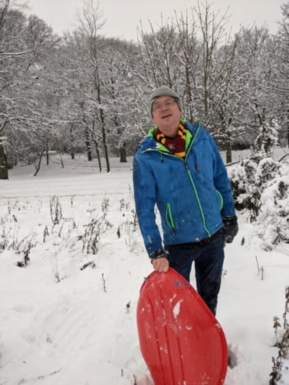 Published Date: January 14th 2021