Leviticus 233/84: Duncan called from York ... and Crystal Palace....
...not to gloat at completing his London Underground Jigsaw ... long since but to catch up on life here and there …. granddaughters Eleanor and Florence are both studying online as are Francesca, Henry and Elliott with the challenges that poses, and Florence is due for her A levels this summer. Duncan's carpentry and accommodations are an essential industry so he can continue working but with less than normal demand. We dreamt of the day when we'll finally get to Emerald-Headingly to watch the cricket for my belated 82nd birthday outing!
Tonight at The Lodge is Dining In Night. It's the first occasion for a new Lockdown Initiative and thus far the menu remains table d'hτte! Cocktails at 6.30pm and dinner at 7pm is confirmed. [More details tomorrow.] Dress is smart casual but there's bound to be scope for a photograph and I'll need a tie and perhaps my blazer no doubt. There were two domestic items to report … first Petra Wend, good friend in Scotland who helped no end with the Diaspora Tapestry in Barga received a CBE in the New Year Honours - so I penned her a sincere letter of congratulations. She spent a decade as Vice Chancellor of Queen Margaret University at Musselburgh - which has it's own railway station [see more below!]. Secondly Julian popped in with some post and told of the latest development at The Manor House - a new patio on the south lawn outside the conservatory. Official launch and Sunday lunches promised after Lockdown ends of course.
Carol's gift of R.C. Sherriff's Fortnight in September … … probably my Existential Normal inspired her … but it had a fabulous bonus for me as it did for Victor Gollancz who was delighted to publish it. It's a drama of the undramatic inspired and developed whilst simply watching people walk along the promenade in Bognor Regis when Sherriff was on holiday there with his mother. It was his first novel written in 1931 and was an immediate international success. It tells of the Stevens family's fortnight's summer holiday in Bognor Regis but not before we spend time getting ready to depart from 22 Corunna Road in Dulwich. From their home Mr. Stevens tells how he can see the Crystal Palace [a nickname like The Shard today] glinting in the distance atop Sydenham Hill which reminds me that our mother Audrey and presumably father Stanley watched it burn down one night in November 1936 along with more than 100,000 others at the height of Edward VIII's abdication crisis. It destroyed not only the Palace but the experimental equipment of Baird's tv development company - fortunately the BBC had opened its studios at Alexandra Palace in 1935. As a child growing up in Annerley she would have seen it herself - the picture left shows that view. The Robin Hood public house [Blog 109/84] is surely behind the photographer!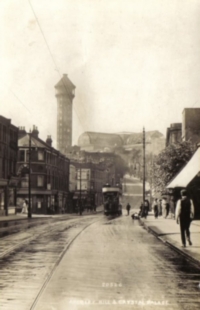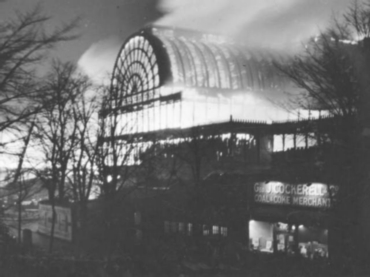 The Palace in Hyde Park and it's move to Sydenham Hill. It was built for the first World Fair to Paxton's designs for £150,000 [today's £15,000,000] and stayed in Hyde Park from May 1st/ October 15th 1851 - pictured left below.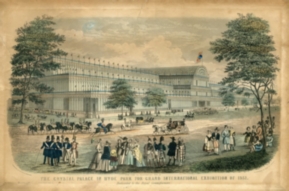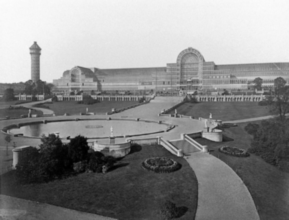 Then it was moved to Penge Park atop Sydenham Hill - [pictured right above] with it's own railway station [just as Battersea Power Station and the Millennium Dome have since deemed appropriate] in 1854 at a cost of £1.5m [£150,000,000]. In Hyde Park six million people, equivalent to a third of the entire population of Britain at the time, visited the Great Exhibition. The peak attendance of 109,915 on 7 October and the exhibition made a surplus of £186,000 [£18,370,000] which was used to found the Victoria and Albert, Science and the Natural History Museum all built in the area to the south of the exhibition and nicknamed Albertopolis. The remaining surplus was used to set up an educational trust to provide grants and scholarships for industrial research which continues to this day. It was privatised but the cost of the move to Sydenham Hill was never repaid and although it spent many glorious decades in use for exhibitions and concerts its condition deteriorated by the end of the 19th century. Led by the Earl of Plymouth it was taken into ownership by the nation in 1920 and began a new lease of life until it was destroyed by fire. There have been a number of attempts to redevelop since WWII including plans in 2013 by a Chinese investor to rebuild but they have all come to nought.



Published Date: January 9th 2021