Leviticus 228/84: Scotland may lock down till February but we're still sailing!
First Minister jumps the gun, again! As ever, Nicola Sturgeon could not resist stepping in ahead of UK Prime Minister Boris Johnston's 8pm tv address to the nation. She wanted to be first in with her Scottish Lockdown. It's going to be interesting to see how the media cover the parallel tales of lockdown/ virus infection versus good new roll out of vaccines. They've already got their teeth into the new variant from South Africa that 'may' be resistant to the vaccines as currently on offer. Avril and I are simply awaiting the call from our GP to tell us where and when we get our initial jab. Strategic goal is to have us all completed by mid-February + 21 days for vaccine to take effect … and then a second jab after 3 months ….
So, being National Trivia Day might seem a tad trivial. It's origins as a nationwide broadcast phenomenon, although you can bet families and groups indulged in quizzes from times immemorial, are ascribed to CBC's original 1940 radio programme Take It or Leave It. It was the the precursor to television's $64,000 Question and of course our own UK Who Wants to be a Millionaire. The old time radio show dealt in smaller change and contestants could win up to $64. It took itself less seriously than its television counterpart with contestants picked at random from the audience from glass bowls with ticket stubs in them. There were two bowls, one each for "men and "women", and during WWII a third was added for "servicemen". The Questions increased in difficulty as the prize money went up. When a player would choose to advance to the next question instead of taking their money and running the audience would taunt them: You'll be soooooorrrrr-yyyyyy. Unlike the higher value quiz show Take It or Leave It hosts were often generous in dropping hints to answers especially for servicemen and there weren't any isolation booths. It came to the UK in 1964 with amongst others Robert Robinson as an early host. Both the $64,000 Question and Who Wants to be a Millionaire have seen scandals but they have enduring appeal. During the pandemic lockdowns a plethora of new game shows based on general knowledge have appeared in the UK e.g. The Wall and The Wheel whilst Tipping Point/ Shove Ha'penny and Pointless have soldiered on. On December 30th 2020 'Clive' finally won £10,000 x The Double = £20,000 on Tipping Point [of which we are helpless fans every night!] leaving host Ben Shephard close to tears. Gareth, on January 30th 2019 had failed to take the trade which when Ben played the three counters out showed he could have won £20,000 rather than the £2,750 he took home. Ben has been with Annie Percks for 20 years and as well as a wide range of tv parts had an early proclivity for Guiness Records: in 2008 he held the record for the highest reverse bungee jump which sadly wouldn't last as David Hasselhoff broke past in 2010; for one day in 2009 Ben also held the record for tossing the most pancakes in one minute; and in 2010, he set the record for smashing the most pumpkins in one minute.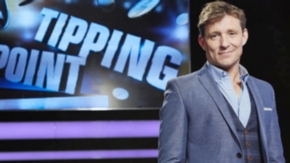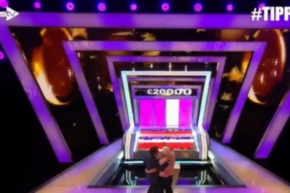 … for the record … ….. the biggest winning jackpot on Pointless was won by David Hammond Williams and his son Jonathan who walked away with £24,750 on 8 March 2013.
January 4th is also Spaghetti Day. But we didn't have that for supper; we had delicious cold lamb with squash and potato mash. Curry to come! The love for spaghetti transcends any culture across the globe. Kids especially. But the origins of the noodle dish are hotly disputed. The oldest record is found in the writings of Roman poet Quintus Horatius Flaccus in the 1st century BC where he refers to sheets of dough called lagana although in 2005 Chinese scientists unearthed a 4,000-year-old bowl of noodles at the Lajia archaeological site in China! In the 12th century regular production of spaghetti began in Sicily. One of the most important moments in the history of spaghetti was WWII when American soldiers came ashore first in Sicily and they demanded spaghetti once they returned home! According to the BBC, the largest-ever bowl of spaghetti was apparently created in 2010 when California restaurant Buca di Beppo managed to fill one swimming pool with more than 6,251 kilograms of pasta and 100 gallons of marinara sauce. Not surprisingly the world's biggest importers of pasta today are the US, Germany, the U.K. and France. The first-ever American factory for spaghetti production was established well before WWII however, in Brooklyn, New York in 1848. Most of us today find tomatoes form part of any spaghetti dish which combination was publicised for the first time in 1790 by Italian chef Francesco Leonardi in his cookbook L'Apicio Modern, but during the 20th century it has developed a more American style served with basil or oregano. Finally, for reassurance, it needs to be known that today there are more 310 confirmed types of pasta known by over 1,300 different names! P.S. Never underestimate an Aussie however. They delight in their spaghettis. Be certain always to have some fine veggies to accompany the dish - as pictured below in Melbourne - veggies and ricotta, shaved Parmesan, parsley, and lemon zest, and drizzled olive oil all mixed. It's light and super healthy....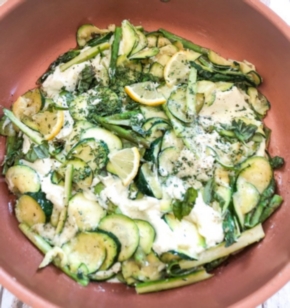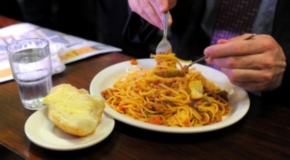 Published Date: January 4th 2021