Leviticus 227/84: Empresario Grant from Spain to Moses Austin in 1821
Quiet day here at The Lodge. But quietude didn't hinder Avril's leaf collations or the roast shoulder of lamb for lunch - greatly enjoyed. Nor did it stop Jeremy Clarkson who's back after a nasty personal Covid19 encounter over Christmas with his regular delightful column in the Sunday Times. It's an apposite critique of BBC's News coverage which seems to have no focus but unending gotcha/ U turn coverage of all the government seeks to achieve. And once again the Teachers' Unions set out their stall as producer rather than customer oriented and seek to undermine positive proposals to get students back at school. All eyes, or at least mine, are on Allegra Stratton who is to become the Press Secretary/ Face of Boris' Government starting with three Conferences each week from January 5th.
Surprise! It's National Drinking Straw Day. It commemorates the definitive day in 1888 that Marvin C. Stone received the patent for the paper drinking straw since which of course multiple varieties of drinking 'straws' have emerged. Stone began his career as an inventor by creating a machine to make paper cigarette holders and contracted with W. Duke Sons & Co. opening a factory in Washington D.C. to produce holders for that company's Cameo brand of cigarettes. It was later that he developed the modern drinking straw. Prior to his invention, people used natural rye grass straws which imparted an undesirable grassy flavour in beverages. To combat the problem Stone made the first drinking straw prototypes by spiraling a strip of paper around a pencil and gluing it at the ends. Next he experimented with paraffin wax-coated manila paper so that the straw would not get soggy when used. Stone's straws were 8 1/2 inches long and had a diameter just wide enough to prevent things like fruit pips from getting lodged in the tube. It's believed by archaeologists that the Sumerians used the very first straws for drinking beer. The oldest straw known to be in existence was found in a Sumerian tomb dated 3000BC. It was a gold tube inlaid with a precious blue stone! The Argentines used a similar metallic device called a bombilla acting both as a straw and a sieve. Today, manufacturers vie to make reusable straws from stainless steel and glass to bamboo and silicone in various colours, shapes and sizes which not only save money but protect the environment.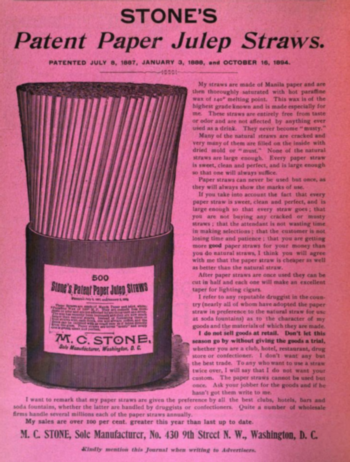 But today's headline takes us to Texas in 1821. A Spanish Empresario Grant on January 3rd that year gave one Moses Austin permission to emigrate from Virginia in the US to then Mexican Texas with 300 families to set up a new community there. Moses died in 1823 and his son Stephen became Empresario and the migrants from the US reached 8000. Stephen travelled to Mexico City in 1833 to petition the Mexicans for autonomy for Texas but on January 3rd 1834 he was arrested for treason and held there until 1835. On his return in 1835 he went on with Sam Houston to be a founding father of first the independent Republic from 1836 after the significant battle victory at Gonzales [1835] and despite a subsequent epic defeat by the Mexicans at El Alamo [1836]. In 1844 Texas was first annexed by the US then becoming a State of the Union in 1845 - which in the fullness of time declined to join the Confederacy although the rationale of the annexation in 1844 and eventual statehood was to outflank British efforts to encourage the outlawing of slavery in the Republic of Texas. Stephen had died in 1836 and missed out on being either President of the Republic or Governor of the eventual state both of which accolades went to Sam Houston.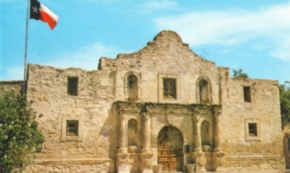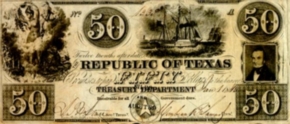 Published Date: January 3rd 2021