Leviticus 219/84: Boxing Day and we're better boxed in!
Madainn mhath, Good morning … but the postman's not coming or emptying boxes till next Tuesday, 29th; and East Lothian Council's closed up shop till January 5th. Times are certainly a'changing but we did have one very important opportunity to honour Boxing Day Tradition with Judith, who gets up each morning before dawn to deliver our Daily Telegraph. She has provided throughout the pandemic the first stepping stone of each day's structure, as commended by psychiatrists. The second of course is this blogging …. It's easy to comprehend why the privatised Royal Mail is taking it easy till Tuesday having officially added Monday 28th as the Bank Holiday since otherwise it would have been used up on a Saturday. 2020 is reportedly the first year that parcels trade has exceeded letter post services in the UK not because of the 100gms cost involved which leaps again for 2021 to 85p First Class and 66p Second; rather one suspects because of the ubiquitous mobile phone and emails/ texts. It still stood proud for Christmas cards this year with only one ecard received against 50 in the letter box. I stocked up last week at old prices and on 72 of each stamp will save £7.20 overall - 9p on First but just 1p on Second.
We constulted at our Christmas Dinner … but have only just realised how presciently significant that was as we boxed our way up to Tier 3 here in Milton. It consisted of throwing a white beaded ball around the dining room with all the glassware still standing although admittedly empty. I suppose it started when I lobbed our stainless steel wine cooler to Henry to test his left hand catching skills. Our constultation reached higher levels as soon as the white ball was introduced and Elliot and finally Julian were tempted to join. All such 'stupidity altogether' [Steven Poole's definition] concluded when the light fitting was inadvertently struck and beads began to drop from the ball.
Ilkley was more sedate as it traced the three ages of a magnum of Sparkling Dorset Furleigh. First nestling in the manger; then at the front door to welcome arriving guests; finally greenly recycled as a table illumination.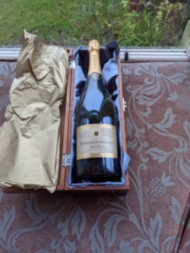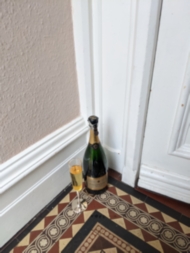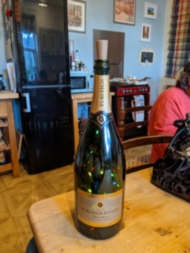 Quiet Day .. Storm Bella late arriving. We'd been advised to expect a storm and flooding with the heavy rainfall we've had. Milton escaped but further down the Nene towards Wellingborough the river broke its banks. Chef Avril was busy creating a Crusted Turkey Pie and with reheated Red Cabbage and Roasties.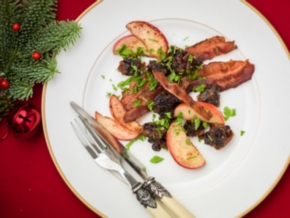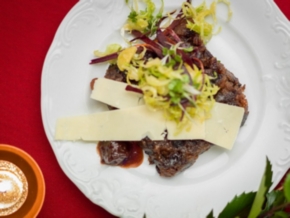 And of course I took traditional Fried Christmas Pudding with Golden Syrup for lunch. I ended up investigating what others wiser than me create and found the pudding served either crumbled with streaky bacon, sliced apple and maple syrup or sliced in an open sandwich the Earl himself would savour: add the orchard flavours of mature farmhouse cheddar to a with a slice of yesterday's pudding and raw Brussels sprout slaw. Use a slice of pudding as you would bread then top with a few thin slices of most mature cheese; mix shredded sprouts with olive oil and a large pinch of fine salt.

Published Date: December 26th 2020