Leviticus 217/84: Shining brightly but a family tradition trashed!
They're frenemies all right, but we are not defatigable! Watching and living through the EU's negotiations for their 'promised' trade agreement with the UK these past 11 months deploying their tactics of parallelism has, as many a commentator now asserts, strongly reinforced the decision to leave. The overriding significance of political rather than human or economic issues has been the most brazen manifestation of empleomania. Macron's posturing over the fish that swim in UK waters as he ponders his re-election campaign to come and Germany's wilful disregard of its automotive industry not to mention the emerging euroscandal over the purchase, recognition and distribution of Covid19 vaccines leave one aghast as does the state of the €. May we please cease describing the EU as "our friends"; frenemies is the correct description as they consistently give backword on issues which determine the lives and livelihoods of millions not least the thousands of truck drivers stranded at Dover these past few days. But nonetheless yes, this was the day we learnt that Brussels school classmates Boris and Ursula had finally reached a conclusion and we have a Brexit Trade Agreement … toasted in Coalport china for Brexit leaf tea.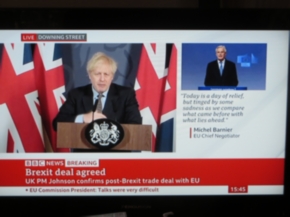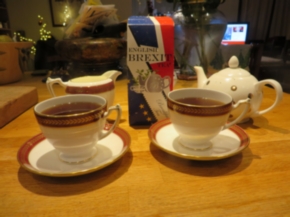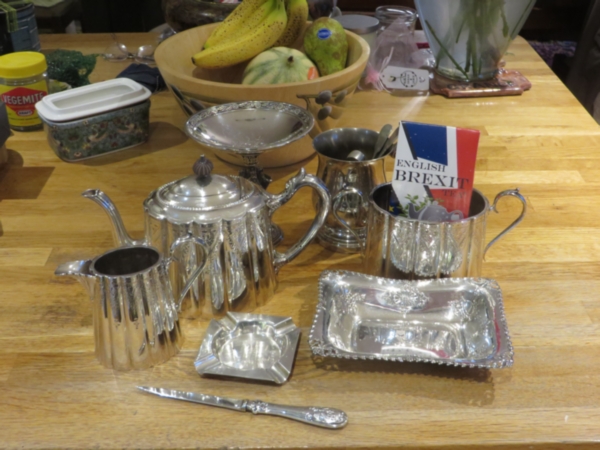 The second shiniest thing today must be the family silver.
I've tried to be a ray of sunshine today with but limited success. My 9.30 call at The Manor House dressed in baronial robes [aka St Nicholas in red] succeeded only in delivering the Baron of Dolphinstoun's Bladnoch Whisky surprise. All others were still abed! But Brexit Trade Agreement has given me all I need to enjoy the day ….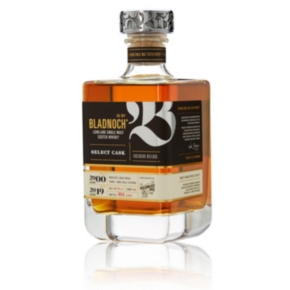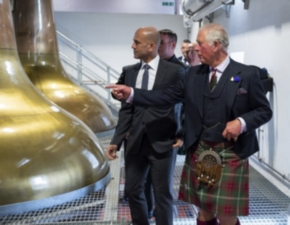 It's Aussie owned nowadays by the Priors and HRH The Duke of Rothesay was not slow to arrive when he opened their new visitor centre in 2019, appropriately kilted.
The family tradition trashed … … this year is the male expedition on Christmas Eve for that last minute/ male shopping. We've done it for many a year and Julian with his sons too but Tier 2 Restrictions render it less than feasible. When in Ilkley Mathew and I have managed Skipton Market more than twice! And a 'white Christmas call' has just come through as I type from Mathew; on Ilkley Moor baht'at this morning a'walking they encountered 'several' flakes of snow. So it's official! We've seldom had snow in Northamptonshire since we arrived in 1972 [I can't recall WWII Christmases here!] and virtually never in Weymouth but when we lived in Yorkshire with our two sons [1965-1967/69-1972] Christmas was almost always white; and a visit to family in Edmonton comes with full guarantees! See the Ilkley family below with wigwam too but also the brilliant tree at Linndale this year which Lorna and Natasha are appreciating from a distance!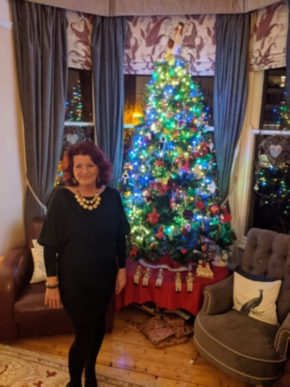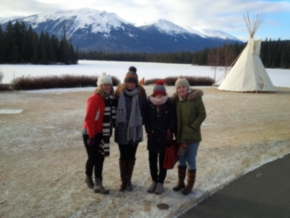 As well as Christmas Eve December 24th is Libyan Independence Day. Libya had been under the rule of the Ottoman Empire since the middle of the sixteenth century but following the Italo-Turkish war of 1912 it became an Italian colony. With their defeat in World War II the Italians lost control of Libya and the country came under the UN with control split between France and Britain - France administering Fezzan while the British administered the provinces of Cyrenaica and Tripolitania. In 1949 the UN General Assembly declared that Libya should become independent by January 1st 1952 so on December 24th 1951 it declared itself the Kingdom of Libya, a constitutional and hereditary monarchy under King Idris. King Idris was overthrown in a bloodless coup in 1969 by Colonel Gadaffi who ruled capriciously until overthrown by an Anglo-French campaign in 2011 and his regime ceased such commemorations; but they have since resumed. Libya has gladly added October 23rd at Liberation Day as a public holiday since 2011.


Published Date: December 24th 2020