Leviticus 209/84: Big Cheese, No! Cheesy, No? Water biscuits and chutnies too ...
Yes, it was my birthday and time for just a 'small' celebration … but no shortage of cheese. Word must have got around or been put around that I was partial along with Bath Olivers [no longer available but Squares and more are from Bath] and the gifts flowed in. Avril and I debated whether to cancel the pre-ordered turkey and have a cheesy Christmas. But as Elliot played his sax and the lemon drizzle cake excelled … we took Boris' advice and decided to keep using our common sense. Still no call from our GP even though over 100,000 had the jab nationwide on Day 1. If the Chancellor of Queen Margaret Uni in East Lothian can get the jab Day 1 and Sir Kenneth MacKellar it's clear that just having an MBE doesn't cut any ice …. and to add insult to injury Scotland opted to outdo England and tell the Gothenburg under its own Tier 3 to close at 6pm from Friday 18th, serve no alcohol with food, and after Christmas stay shut till well into New Year. Yet the sun still shines. Leeds United raised the spirits a very great deal with a 5-2 win over Newcastle in the Premiership this very day.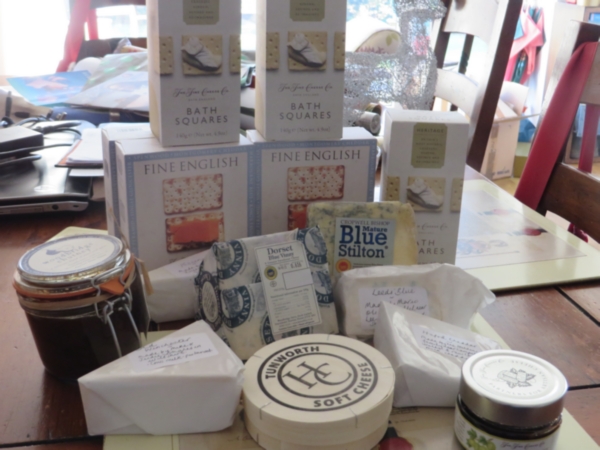 Cheese news was almost overwhelming because … … for his birthday in October we'd given Elliot a cheesemaing kit and as was to be hoped for my birthday he, with co-Chef Julian, had created both a feta and a montzarella in the Manor House kitchen. They were served as part of a delightful mezze that preceded beef stifado accompanied by Henry's trial run for Christmas roast potatoes; and were followed by the cake depicted at the foot of this blog. The wines were not Greek nor the non-alcoholic beers! The picture above does justice to the diversity of other cheesy gifts. From Carol firstly a birthday wish from The Donald - which I shall always treasure. It was also she who had found the last packet of Bath Olivers in the country/ world at a garden centre earlier in the year as well as tracing the Fine Cheese Company's Bath Ovals [now also unavailable!]. But Carol conjured for my birthday was that latter company's Bath Squares plus Gooseberry Fruit and a very fine Cropwell Bishop Blue Stilton. Tapadh leat. From Mathew came the long anticipated Leeds Blue, Killeen Goats from Galway in Ireland, Old Winchester, Hafod Cheddar from Wales and Tunworth Soft. From Avril came Dorset Vinny Blue and Woodbrige Pear Chutney also from Dorset, Tapadh leibh, and in the larder already Long Clawson Shropshire Blue, a favourite at Veere in the Netherlands with Hanneke and Jan - who loves cricket!
'Twas a busy but enjoyable day long schedule … … despite the political odds. Read the Daily Telegraph. Next an early visit from Sylvia and Tony bringing a beautiful Bottlebrush plant and a card from the Orient Express recalling Avril's 40th birthday trip to Paris thereon. Time now for a late breakfast of stewed EU plums and Wellingborough Alpen with Finnish Benecol. Needed to attend to the emails of course prior to a light lunch of scrambled egg on bagel and then the drive to Northampton General Hospital for Avril's eye injection. Whilst driving the Maserati it took a phone call from sister-in-law Pamela who'd packed her bags at her recuperative Stamford Nursing Home and was en route back to Oakham where the NHS has finally fixed her promised chair lift up the stairs. She'd kindly gifted me some Brexit English Tea to be drunk on December 31st of course. Avril was first in/ first out [for once] taking just 60 minutes whilst I shopped at Morrisons for diesel and thank you flowers for our 'family bubble' birthday dinner hostess Laura whom we joined at 5.30 at the beautifully laid table; and my card and gifts were unwrapped - a woolly warmer and a heated seat throw to replace the busted one I had. Much appreciated but a timely reminder that I am indeed now 83 and do feel the cold when it's cold. We concluded dinner as already alluded to with the cake and the sax-man playing in his first serious appearance, unannounced or cajoled, as captured for posterity. All was not over however. Henry broke up the party at 7.19 to head for football practice and Avril and I returned to The Lodge to await a ZOOM at 7.30 from Ilkley and then the foretold birthday call from Edmonton - 13.30 for them 20.30 for us. Bryan, Joan and Anne all sang merrily, Anne of course a former Cathedral chorister for many years in Victoria.
Mathew suggested a familial ZOOM which was a brilliant notion! All the Ilkley family + Duncan and Eleanor from York came on board swopping tales for half an hour and including Ilkley crewladies Natash and Lorna who are still actually working-from-home in London [now Tier 3] till December 23rd.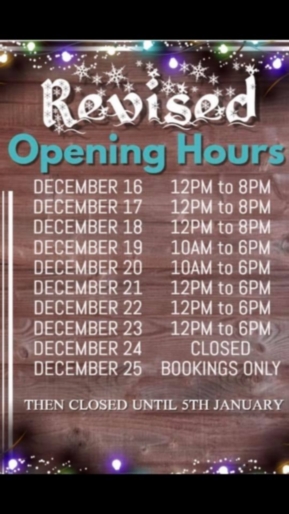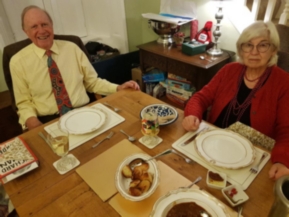 We spared many a thought for The Gothenburg … .. revised Opening Hours above. They've only recently reopened after staff recovering from Covid19 in Tier 2 and here this coming Friday sees them back again facing monstrous restraints. Calum and Michelle keep smiling through it seems and it's their customers who give them the motivation to stay the course … everyone now believes they can see an end in sight ….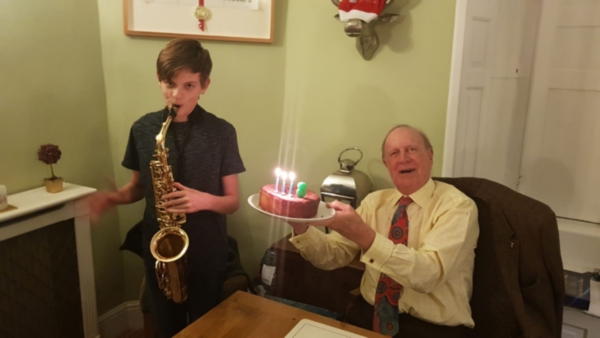 Published Date: December 16th 2020