Leviticus 204/84: Shining bright with Gin-in-the-Cake .. and APPs Day
Friday is Coffee Morning ... .. and we smugly agreed this morning that we'd kept the flag flying throughout the pandemic; even at one stage managed outdoors distanced f2f with original fellow drinkers rendering my efforts redundant. Today's photograph shows Christmas crockery is with us already as I was allowed to start eating a kind gift from Maureen in Ilkley - a gin laden fruit cake. Having my cake and eating it was more than the unhappy smilers next to the cake can expect by Sunday!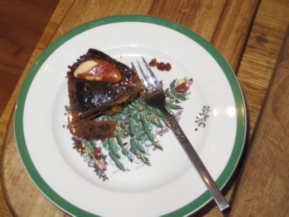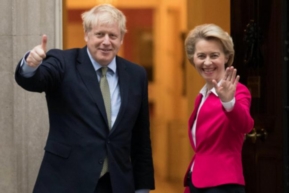 And through the mail arrived, via The Manor House, a gift from Mathew that has been immediately transferred to ye aulde food or meat safe in the garage until December 16th. It's true that meat was often stored there but most households didn't have that much meat. The food safe was for any perishables. It was simply a wooden cupboard with doors and sides open to the air apart from a covering of fine galvanised wire mesh. There was often an upper and a lower compartment lined with American cloth, a fabric with a glazed or varnished wipe-clean surface.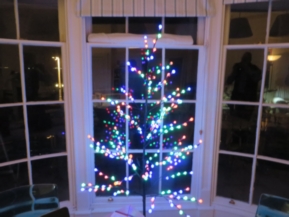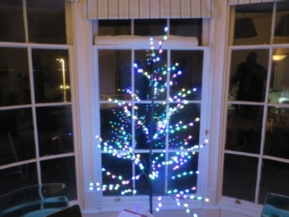 We left the bright lights behind … Seemed improbable but when we extracted our annual lights from the top cupboard at Weymouth the receipt said £75 from seven years ago. The timer switch we use was an extra £7.50. But we like it greatly mainly for its absolute simplicity and its willingness to change colours if you watch it patiently - as the camera has here. Back at Milton nothing more than our Advent Calendar and one candle in the sitting room window - so far. Elliot popped across with post last night and agreed to give us a hand getting the tree and the rest down from the loft at the weekend so we can be illuminated before my birthday. Who knows we could be celebrating our exit from the EU by then on Australian Terms. That's Boris' lovely euphemism for no success in negotiating with the EU.
News of Covid19 closure at The Gothenburg. One of the staff has been infected so the whole enterprise in the absence of parallel staffing has had to close for the statutory period. It has mercifully given the opportunity to repair further damage from bad weather on the north balcony area of the premises where the Christmas trees are presently. Pictures soon we hope …
Good news from Tim Howard our PC fixer. I misread his imminent paternity leave; he phoned to say we are 'outstanding' not as a compliment but as w-i-p so on Monday next we'll give him open access to seek to fix the printer's wifi. Meantime it's an aulde fashioned cable that seems to be working OK ....
More than 2 million APPs in play today … …. and every single day hundreds and thousands of apps are being added. The term is the abbreviation for Software Application and as long ago as 2010 the American Dialect Society declared the term "Word of the Year". At family level we all now use WhatsApp but lets not forget we invested £25,000 from Barons Courts in our Scottish Diaspora Tapestry, Battlefield and Murals Trail APPs. And the QR tags/ GPS that immediately locate within the APP are pure magic. It began as our only realistic answer to providing guides as the tapestry toured and it was wholly unrealistic to ship the Official Guide Book or indeed thousands of leaflets across the globe. Never looked back although we have to be ever vigilant it doesn't slip out from Google or Apple clouds … and of course there's a challenge to update it too; not really conquered that latter shortfall yet but today's national APP Day is a useful reminder!
Last but not least it's Kathryn's birthday! Pictures came thick and fast by phone and supper saw one and all dressed for the occasion which featured the magnificent encandled chocolate cake. Francesca was there of courses as was mother Maureen ….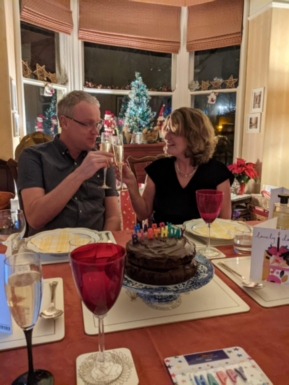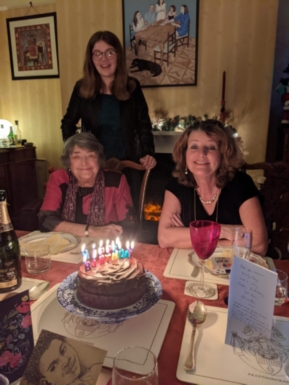 Published Date: December 11th 2020